So, Norm Coleman won't rule out a run for Minnesota Governor.  Well, let's see, what has Norm been doing to ingratiate himself with Minnesota voters since he lost to Al Franken in 2008?  He:
1)   Moved out of Minnesota at the first opportunity.
2)   Became a Super PAC (Congressional Leadership Fund) political hit man doing the dirty work for a group of Tea Party-controlled House members sporting a 9% approval rating, an all-time historic low.
3)   Promoted Michele Bachman, Minnesota's most irresponsible Tea Partier and McCarthyite, to serve a heartbeat away from the Presidency.
Over the last four years, Norm bought into the Tea Party scene lock, stock and Bushmaster barrel.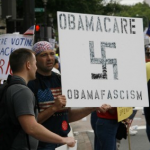 So, how is Coleman's Tea Party cheerleading role selling back in moderate Minnesota, a blue state which recently gave Democratic President Obama a relatively easy 8-point victory?  Not well.  In 2008, Norm Coleman only lost to Senator Al Franken by a small fraction of one percent.  But after watching Coleman go all Tea Party the last few years, Minnesotans now choose Al over Norm by a comfortable 7% margin.
Norm Coleman would be a better gubernatorial candidate for Republicans than, say, Kurt Bills or Michele Bachmann.  But that isn't saying much.   Norm in 2013 is a much weaker candidate than he was when he lost in 2008 to a highly flawed DFL challenger.  His Super PAC adventures have further besmirched his image in recent years.  Minnesotan Republicans could do much better with a fresh face.