Minnesota Republican legislators spent their 2016 election campaigns expressing grave concerns about whether private health insurance companies in the individual market* have sufficient competitive pressure to keep prices down, and whether Minnesotans who live outside of the Twin Cities metropolitan region will have at least one solid coverage option available to them in coming years.
Those are legitimate concerns shared by both parties. But after Republicans won control of the Minnesota House and Senate, they have been unwilling to do one very important thing that that could achieve those two goals. They have been unwilling to give those Minnesotans the option of buying into MinnesotaCare health coverage.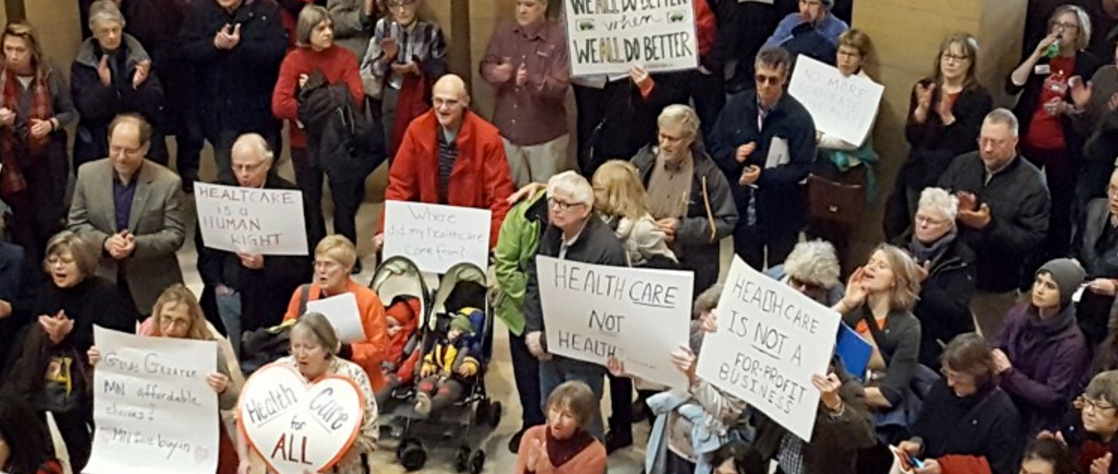 Governor Dayton's proposed "MinnesotaCare-for-All option" would allow any individual market consumer to buy into the state government-run health plan that has served over 120,000 Minnesotans since 2006. An unsubsidized version of MinnesotaCare would be an available option for all Minnesotans.
In other words, MinnesotaCare for all would be a Minnesota-specific "public option" that would always be there for Minnesotans. MinnesotaCare wouldn't be able to abandon individual market consumers the way corporate insurance companies can and do. Moreover, MinnesotaCare's presence in the marketplace will pressure private insurers to offer more competitive prices, because MinnesotaCare's prices don't have to account for corporate salaries and profits.   Representing the buying power of about a million public plan consumers, the large MinnesotaCare plan should also have leverage to negotiate consumer-friendly reimbursement rates with health care providers, which helps keep premium costs more affordable.
In fact, Governor Dayton's office estimates that Minnesota families who purchase MinnesotaCare coverage would pay on average about $838 per person less in 2018 than they pay for private coverage in 2017.  To secure those long-term annual savings for Minnesota families, a one-time taxpayer investment of $12 million – a relatively tiny drop in the State's $39 billion annual budget — would be required to establish the option. In subsequent years, no additional taxpayer funds would be needed to keep the lower costs flowing to Minnesotans. The MinnesotaCare-for-All option would be self-sustainable.
If you believe that government-run operations are always less efficient and customer-friendly than corporations, here's your chance to prove it. If that's true, comparison shopping Minnesotans will "vote with their feet" by rejecting it en masse. But if it's not true, Minnesotans in the individual market will finally have the peace of mind that comes with knowing that at least one coverage option will always be there for them and their loved ones.
Given that 71% of Americans support having a similar Medicare-for-All option, a MinnesotaCare-for-All option is likely popular with Minnesotans.  Still, Republican state legislators killed the proposal this year.
Minnesota Republicans can't have it both ways. They can't reject the MinnesotaCare-for-All option and then turn around blame others if competition is insufficient in some parts of Minnesota, or if corporate insurers' prices prove to be unaffordable to many Minnesotans. No one can know for sure if this idea will work, but if Republicans are unwilling to give things like this a try to help vulnerable consumers, then Minnesota voters should hold them accountable for their obstructionism.
*(Note: The "individual market" is made up of the 10 percent of Minnesotans who a) can't get insurance through their employer and b) whose incomes are not low enough to quality for either of Minnesota's two publicly subsidized health insurance plans — Medical Assistance (Minnesota's version of Medicare) for very low-income citizens or MinnesotaCare a subsidized option for the working poor. Last year, about 250,000 consumers bought coverage in Minnesota's individual market.)