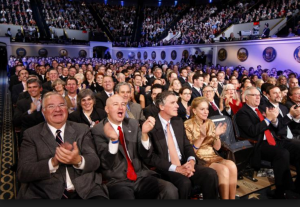 If I were a political party chair, I would make one simple adjustment to make my party more competitive. I would only allow general election swing voters to attend candidate debates.
In general elections, history tells us that the Republican nominee is going to win most Republican voters and lose most Democratic voters. Therefore, their fate is usually going to be determined by their relative ability to attract the roughly one-third of the electorate who are undecided and/or don't have predictable partisan voting patterns.
If only these type of "swing voters" were sitting in the audience of the debates, candidates would get the kind of reality check that they just don't get when speaking at partisan debates, rallies, fundraisers, and interest group endorsement interviews.
For instance, when billionaire Donald Trump demeans women, Hispanics, immigrants, and other large voting blocks, he wouldn't hear the roar of approval he hears from his loyal supporters. He would hear the groans of a broader group of Americans, 59% of whom now have an unfavorable opinion of Mr. Trump, by far the worst of all Republican candidates.
When Dr. Ben Carson says the Affordable Care Act (ACA) is the worst thing since slavery, he wouldn't be rewarded with the hoots and hollers he gets at gatherings of extreme conservatives. Instead, he would hear disapproval from Independent voters, a plurality of whom want the ACA either maintained or expanded (only 30% want it repealed).
When Senator Marco Rubio brags about his legislation opposing Affordable Care Act funding of birth control, he won't hear the "amens" he gets at gatherings of his anti-abortion supporters.   He'll hear boos from the 69% of Americans, and 77% of women, who support that ACA birth control benefit.
When Jeb Bush describes his predictable plan to further cut taxes for the wealthiest Americans, he won't get the cheers he gets from the GOP establishment. He'll hear boos from the 66% of Independent voters who want to increase income taxes on people earning over $250,000 per year.
When Senator Ted Cruz, Senator Rick Santorum, Governor Bobby Jindal and Dr. Carson all tout their support for a constitutional amendment banning same sex couples from getting married, an audience of swing voters would not react nearly as positively as conservative audiences do.   After all, a solid majority (61%) of Independents now favor same sex marriages.
To save their party, Republican candidates desperately need a reality check to prevent them from taking extreme positions that sell well with extreme right wing activists, but harm them in general elections, when they need to win a majority of middle-of-the-road voters. Removing the conservative hallelujah chorus from presidential debate audiences would be one good way to begin to inject such a reality check.