While Minnesota DFLers controlled state government the past two years, they have done some very constructive things:
TRULY BALANCED BUDGET.  Unlike their GOP predecessors, DFLers balanced the budget without relying on irresponsible gimmicks and shifts, and they paid back public schools for the money the GOP shamefully "borrowed" from them.
TAX FAIRNESS.  The DFL also restored a bit of tax fairness to an unfair system, by increasing taxes on the wealthiest Minnesotans who were paying a lower percentage of their income in taxes than other citizens.
5 G's.  Importantly, DFLers didn't get bogged down with issues associated with "the five G's" — gays, guns, gambling, God and gynecology — which tend to dominate under GOP control.  DFLers enacted marriage equality swiftly and efficiently — a very historic and important achievement — then moved on to other important non-G business.
ALL-DAY K.  DFLers passed universal all-day kindergarten.  While that's not the first education investment I'd prioritize, it is a constructive move, and a publicly popular move.
JOBS AND INFRASTRUCTURE.  The DFL authorized and funded a long list of needed capital improvement projects that are rebuilding Minnesota's deteriorating infrastructure and putting long-suffering construction workers back to work.
NO DELAYS OR SHUTDOWNS.  Finally, the DFL got its work done on time, and didn't shut down state government, as the previous GOP-controlled Legislature did. DFLers mostly governed like grown-ups.
That's a very nice body of work for the DFL to showcase to voters.  They should be proud of it.
If DFLers lose control of all or some of state government, it likely will have had to do with environmental factors they can't change , such as low DFL constituency turnout in a non-presidential election and an unpopular Democratic President.  Their policymaking performance will not be their biggest political problem.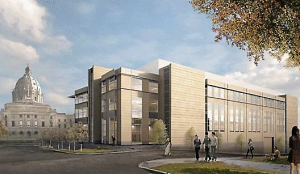 But there is at least one policymaking unforced error that is making things a bit more difficult for the DFL — the DFLers authorization of a new Senate office building.
The new Senate office building project is nowhere near as wasteful as Republicans claim.  It also is nowhere near as necessary as Senate DFLers claim.  But one thing is indisputable:   The political optics of the project are bad for the DFL during the election season.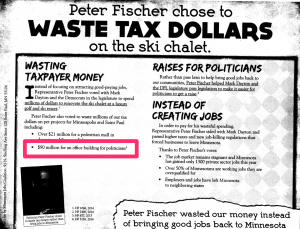 Most voters won't do a comprehensive financial analysis of whether DFL leaders are doing a good job stewarding their tax dollars.   They will judge fiscal stewardship based on an isolated example or two.  Republicans are working overtime to make sure that the Senate Office Building is the example voters use to make their judgement.
The Senate office building works well for the GOP on a political level.  First, the building is built for legislators by legislators.  On its face, that seems self-serving and arrogant to many voters.  Minnesotans don't take kindly to self-serving and arrogant.
Second, this is not a pole building, and therefore can be made to seem extravagant.  The building renderings strike me as modest, responsible and utilitarian, but demagogues are making the Senate office building seem like something akin to Emperor Nero's Domus Aurea.
The issue is obviously being overblown by Republicans.  This project represents only a small fraction of the entire state budget, and the argument for the building is strong, if you actually take the time to study and consider it.  But at-a-glance, voters perceive the building to be self-serving and extravagant, and Republicans realize most will voters only consider the issue at-a-glance.
In what is likely to be a close non-presidential election with little room for error, the DFL legislators can't afford many unforced errors.  Choosing this year to build the new Senate office building is one very big unforced political error.
– Loveland