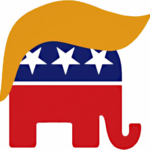 Unfortunately, Donald Trump is not on the ballot in 2018.  If he was, polls indicate he would get crushed in a landslide by Joe Biden, Bernie Sanders or Oprah Winfrey.  But because Trump isn't on the ballot, criticizing him during the campaign will have little effect on the Trump agenda, unless voters become convinced that the 468 Republican nominees who are on the general election ballots are substantively the same as Trump.
After the 2018 Republican primaries are over, we can expect many congressional Republicans to stop pandering to the roughly 35% of Americans who make up the "Trump base" and instead distance themselves from him in an attempt to win over the swing voters who will decide the election.  They'll be saying things like "I support his tax cuts, but I'm my own person and don't agree with him on many things."  This is absurd because most Republicans voted with Trump over 90% of the time in Congress.
Still, hundreds of millions of dollars worth of advertising will be spent in gerrymandered districts to build this "independent from Trump" illusion.  If congressional Republicans get away with this Extreme Makeover, Americans will be stuck with unchecked Trumpism in 2019 and 2020, and perhaps beyond.  It could get so much uglier.
So Democrats need to do more than just give long-winded anti-Trump speeches on MSNBC. Casually involved swing voters don't have the patience for long-form communications. Instead, Democrats need a concise term to rebrand Republicans in the Trump era.  Congressional Republicans need to be branded what they are, a group of Trump-programmed bots who are ideologically indistinguishable from Trump.  Republicans of the Trump era need to be branded as "Trumpublicans."
I certainly didn't invent the term "Trumpublican," and I don't find it especially clever.  But it has the important virtue of clearly and concisely communicating that Republicans have become a wholly owned subsidiary of Trump.  These shameful 468 Republicans have empowered this dangerous, bigoted, unpopular moron.  So let's shine klieg lights on what these Republicans have allowed themselves to become, boot-licking Trumpublicans.
Even Republicans of the Reagan, Dole and Bush eras would never have kicked 30 million Americans off of health coverage.  But that's what Trumpublicans giddily did when they repeatedly pushed Trump's unpopular and cruel TrumpCare bill.
Even Republicans of the Reagan, Dole and Bush eras would never have deported 800,000 beautiful young people productively living out the American dream.  But Trumpublicans enthusiastically embraced Trump's unpopular and racist DACA repeal.
Even trickle-down Republicans of the Reagan, Dole and Bush eras never would have given 83% of a tax bill benefits to the richest 1% of Americans.  But these Trumpublicans toasted the billionaire Trump as that extremely unpopular and immoral bill was enacted into law.
Even Republicans of the Reagan, Dole and Bush eras supported conservative Presidents and Administrations that had at least some modicum of experience, integrity and ethics.  Trumpublicans have embraced and blindly defended the Trump Administration's jaw-dropping parade of incompetence, inexperience and corruption.
Because of congressional Republicans' complete lack of Trump oversight the last two years, they are no longer Republicans in the sense Americans have traditionally used that word.  That term is now much too good for them.  Republicans have completely merged with Trump Incorporated and made themselves into Trumpublicans.  Americans need to understand this truth before November 6, 2018.  Drain THAT swamp.
So Democrats should be continually reframing Republicans as "Trumpublicans" during the 2018 mid-term campaign season.   Unlike conservatives, progressives don't have Russian bots and billionaire funders to drive the message.  So Democrats are going to have to do it the old-fashioned way, with disciplined repetition.  Trumpublicans, Trumpublicans, Trumpublicans.