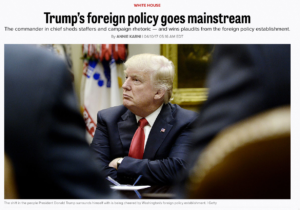 After a few TV-friendly bombings this week, many in the mainstream media and pundit-o-sphere are falling all over themselves to declare President Trump mainstream. That's right, it seems our Muslim-banning, emoluments-pimping, Russia-colluding, climate change-denying, serial-lying President is now pretty much equivalent to Obama, the Bushes, the Clintons, Reagan and Ford.
For instance, Politico's headline is "Trump's Foreign Policy Goes Mainstream," and it reports:
"(T)he substance of Trump's decisions in his first 79 days in office reveals a surprisingly conventional approach, with personal quirks layered on top, according to a half-dozen foreign policy experts."
Similarly, the Wall Street Journal headline reads "Five Big Players Steer Trump's Foreign Policy Towards the Mainstream" and National Public Radio (NPR) offers "Trump's Flip Flops on Economics Move Toward the Status Quo."
Okay, so the President recently has said a few sane things, such as NATO shouldn't be defunded after all and Russia really should stop enabling the gassing of innocent children. Super. But before we throw the President a ticker-tape parade, let's remember it was utterly outrageous that a presidential candidate or President ever took the opposite positions in the first place.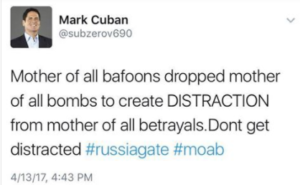 Let's also remember that in the same week the media declared Trump mainstream, we learned that a federal judge found probable cause that Trump's campaign may have colluded with the Russians to undermine American democracy, and that the President threatened to withhold lifesaving assistance from poor people if Democrats don't back his extremely unpopular Trumpcare plan to take health coverage from 24 million Americans. We also read the Los Angeles Times, Newsday, Rolling Stone, and Wall Street Journal reporting and opining about the President's unprecedented level of lying.
Yeah sure, but did you hear that the President failed to publicly praise his most empowered white nationalist? Moderate!
How does this happen? Former top aide for President George W. Bush David Frum explains:
"As President, Donald Trump benefits from two inbuilt biases of mainstream pundits:

"Bias 1 favors fair-mindedness: the wish to offer tips of the hat along with shakes of the finger. This bias exerts itself extra strongly with a bad actor like Trump. The worse he does, the more eagerly the pundit seeks something to praise. We've all experienced this. 'There has to be something good to say about Trump. Even Hitler liked dogs!'

"Bias 2 is the bias in favor of surprise and novelty. Pundits don't want – bookers won't book – endless repeats of 'He's a liar & a crook.' How much more interesting to say: "He's a liar and a crook, but …" How boring to insist that the first part must always overwhelm the latter.

"And so TV punditry flits from one seemingly clever (but actually deeply false) pivot to another, chasing insight & missing truth."
Say it with me people:  This presidency is lightyears away from normal.   An American President who bans people from entering a country that was founded on the principal of religious liberty because of the deity they worship…who empowers white nationalists that the neo-Nazis and Klansmen cheer…who praises murderous, democracy-hacking dictators as "strong" role models…who appoints his business-operating family members with no relevant experience to the most sensitive positions in the world…who covers up his tax returns so he can profit from policy positions and accept foreign bribes without Americans knowing it…and who lies at a rate that we have never seen in national history is not normal, moderate, or mainstream.
We have to judge presidents based on their overall body of work. And when a very high percentage of a President's body of work is utterly outrageous and dangerous to the republic and world, we can't give anything close to equal billing to the low percentage of his actions are not outrageous.  This week's shamelessly fawning news coverage aside, Donald J. Trump remains the mother-of-all-abnormal Presidents.