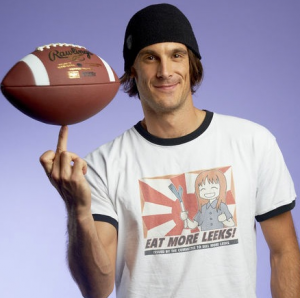 Statistically speaking, Chris Kluwe is the best punter in Minnesota Vikings history, according to KFAN Vikings analyst Paul Allen.
Yet this weekend, the Vikings used a high draft pick — high for a punter anyway, a fifth rounder — to potentially replace Kluwe. The Vikings say this move is strictly about Mr. Kluwe's on-the-field performance, and has nothing to do with any off-the-field issues.
As noted, Kluwe's punting career statistics just don't warrant a firing.  Moreover, Kluwe is not trending downward.  He is coming off his best statistical year of his eight year NFL career, averaging a net 39.7 yards per punt.