Dear Mitt Romney:
Whatever you do, please don't pick Tim Pawlenty for your Vice Presidential nominee.  As an avid Obama supporter in Minnesota, I would HATE to see that.  It would guarantee that you would immediately erase Obama's large lead in Minnesota, and shake up the nation's electoral map.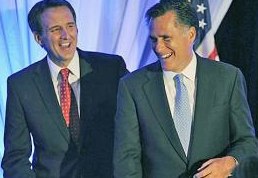 Pay no attention to bitter bloggers who claim that Pawlenty is politically impotent in Minnesota.  It is true that he ended his tenure as Minnesota Governor with record low approval ratings from Minnesotans.  But that was a long time ago.
And, yes, Pawlenty campaigned night and day for months to try to win Minnesota for John McCain, only to get pasted by 10 points.  But that was just a fluke.
Sure the negative Nellies also point out that Minnesota's bemulleted favorite son also was trailing President Obama in his own home state, before his premature evacuation from the GOP nomination fight.   But Governor Tim is right, you can't believe polls any more than you can believe the climate scientists.
And it is true that, after Governor Pawlenty pulled out of the primaries, he threw all of his Minnesota political muscle behind you, only to see the Pawlenty-backed Romney campaign lose the Minnesota GOP caucus vote, by 28 points, to a protest candidate endorsing legalized hookers and heroin.  But this was clearly the media's fault.
Finally, never you mind that Pawlenty currently would be getting pummeled by 15-points  by Minnesota's freshman  Senator Amy Kloubachar.  Maybe the poll has a 15-point margin of error?
So Governor Romney, whatever you do, please DO NOT choose Minnesota's favorite son as your running mate.  Such a stunningly brilliant move would ensure a Minnesota massacre for Barack Obama.