T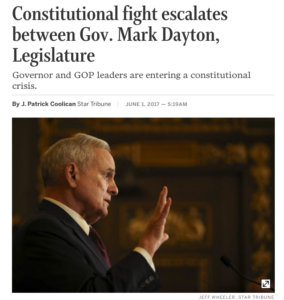 his is going to sound awfully school marmy, but I expected more from you, Mark Dayton.
I'm speaking, of course, of the spat over Dayton's defunding of the legislative branch of government in retaliation for the Republicans planting a legislative stink bomb in their unwise tax cut bill.
Admittedly, poor Mark Dayton suffers from my high expectations. During his career of public service, he's usually been a thoughtful and mature leader who has shown great respect for our constitutional democracy.  For that reason, I just expect a lot more from him than I do from Republican state legislators, who have, in recent years, had more of a track record of recklessness and immaturity.
So, I'm disappointed with Dayton's gamesmanship in this case, because it is probably unconstitutional and certainly childish. Mind you, this criticism is coming from someone who hates the Republicans' tax and budget cuts, and dislikes many of their policy changes, but is also all too aware that, heavy sigh, elections have consequences.  That means that the party that won control of both chambers of Legislature in 2016 unfortunately gets to win a lot.
Someone who respects our guiding principle of separation of powers should never use their executive power to defund a coequal branch of government. Regardless of what the courts decide about the strict constitutionality of Dayton's fiscal trickery, the question of "should" still ought  to matter to defenders of democratic principles, not just the question of "can."
When it comes to the playground "they started it" defense that Dayton and his DFL allies are using, I can't disagree on factual grounds.  At the same time, I'm with old Mahatma Ghandi on this one: "An eye for an eye only ends up making the whole world blind."
In these dangerously politically polarized times, "adults in the room" are in desperately short supply. I'm grateful that Governor Dayton has played that thankless adult role many times during his career. Unfortunately, this time, our frustrated Governor has joined Republican legislators on the puerile path, just when we needed him most.