Most Minnesotans like their kids' teachers, but not the overall K-12 system.
They like their doctor, but not the overall health care system.
They like the individual they can connect with personally in their immediate sphere, but have disdain for the individual's institution.  Once we have looked someone in the eye, pressed their flesh, and heard their life stories, we form human connections that drown out our critical thinking.
Nowhere is this phenomenon more prevalent than in politics.  In politics, people often express emphatic disapproval for legislative bodies, yet they keep returning their own representative to that body.
And then they wonder why nothing changes in the legislative body.  What's that old definition of insanity?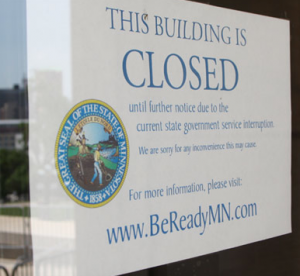 Take the Minnesota's current Republican-controlled Legislature.  Please.  According to one public opinion poll, fewer than one in five Minnesotans (17%) approve of it.   At the same time, embattled DFL Governor Dayton's approval rating is over thirty points higher than the Republicans.  To be clear, a majority of Minnesotans are not saying "a pox on both their houses."  According to several polls, the public is aiming it's pox squarely at Republicans.
This verdict is easy to understand when you consider Republican Legislature major "achievements":
Using local schools as their own personal ATMs
Wasting all their time on constitutional amendments to limit Minnesotans' freedoms to marry and vote
Killing job-creating capital investments in Minnesota's future
Shutting down government to keep the wealthiest 1% of taxpayers from paying the same proportion of their income in taxes as the average taxpayer
With an outrageous record like that, and the lowest approval rating in recorded history, could Minnesotans possibly send the same Republicans back to control the Legislature for a repeat performance?   Are Minnesota voters really capable of simultaneously saying "you are the worst Legislature ever" and "we rehire you?"
You bet.  Again, many people are naturally inclined to return their local gal or guy, which would give us the same cast of characters, which would guarantee more gimmicks, buck-passing, divisive defacing of the Constitution, and shutdowns.
"Dance with the one who brung ya," as they say.  Even if the record they're spinning has been a death dirge?
- Loveland
Photo by CNN
Note:  This post was also featured in Politics in Minnesota's "Best of the Blogs" and Minnpost's Blog Cabin.