The case against the state constitutional amendment to require photo identification at Minnesota voting sites is that the requirement will disproportionately suppress turnout of, among others, racial minorities.  State Senator Patricia Torres-Ray:
 It's going to make voting more difficult for thousands of law-abiding Minnesotans, and the brunt of that burden will fall on communities of color.
Amendment opponents need to more effectively make their case to communities of color, because in a obscure crosstab of a new Public Policy Polling survey released this week it is clear that racial minorities in Minnesota are currently overwhelmly supportive of the amendment, even significantly more so than white Minnesotans.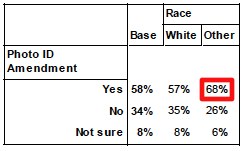 To state the obvious, a particular specialty of mine:  If opponents can't even convince the primary victims of this amendment to oppose it, the Photo ID Amendment is headed for easy passage.
There is a LOT of work to do here.
- Loveland
Note:  This post was also featured as part of the "Best of the Blogs" feature in Politics in Minnesota's Morning Report.