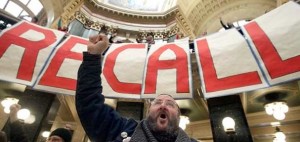 A New York Times exit poll suggest that that the general notion of a policy-based recall election was bothering  an overwhelming majority of Wisconsin voters.
Exit pollsters asked "Do you think recall elections are appropriate?"  To quote the late, great Richard Dawson, "survey SAYS:"
For any reason:  27%
Only for official misconduct:  60%
Never:  10%
In other words, seven-out-of-ten Wisconsin voters thought a recall election over a policy disagreement, such as anti-union legislation, was inappropriate.  So many Wisconsinites may have opposed the recall of Scott Walker more because they disliked mid-term recalls based on policy disagreements, rather than because they loved Governor Walker.
This would help explain why exit polls showed that the same voters who gave Walker a 8-point win were also picking The Antiwalker, President Obama, over Walker supporter Mitt Romney by 7 points.  Some of those Obama supporters who opposed recalling Walker may just have been uncomfortable with the idea of the concept of this recall.
- Loveland
Note:  This post was also featured as part of the "Best of the Blogs" feature in Politics in Minnesota's Morning Report.