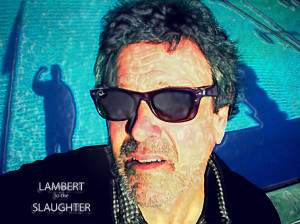 So I'm down in Florida for my sister Lu's birthday bash, strolling around the quaint/funky old neighborhood of Key West minding my own business, and I pass by a guy parked on his Vespa talking on the phone.
"Look," he says to whoever, "we can't do this every day. It was a half hour yesterday and", looking at his watch, "it's already 20 minutes this morning. We can't spend all this time talking about that asshole. It's draining."
Now, he could have been talking his drunken brother-in-law's latest faceplant. But I kinda doubt it. The conversation was way too familiar to stuff I'm hearing everywhere I go. Hell, my wife and I were recently at a wake … a wake, for chrissakes … and every conversation was about Trump, "that asshole". To the point that it struck me the guy is such a menace to psychic health he's a goddam buzzkill … at a wake.
Scrolling through social media and other blogs, every liberal I know is in a competition to outdo the last in the level of vilification, disgust and personal offense they're taking to Trump (and all things Trump). I can hardly plead innocence. It's like, "No, I'm more outraged and appalled than you are!", and there's going to be some kind of awards banquet for the most righteous, apoplectic takedown of our Our Mendacious, Incompetent Orange Comb Over-in-Chief. (See?)
So here's a little sunlight and flower-sniffing to counter-balance all the stomach-churning rage. The resistance undermining Trump (and Steve Bannon, and Betsy DeVos and all the other cartoonish trolls who have moved into D.C.) is flourishing and, apologies to Gil Scott-Heron, is actually being televised.
There's nothing monolithic about modern media. It's a million different sources for 320 million different interest groups. But as badly as "the media" failed us during the campaign, it is now reacting predictably — and pretty well — to the clown car chaos and buffoonery of the Trump administration. (Thanks in large part to its own craven ratings-chasing) "the media" now has a singular target of unprecedented size and authority to dissect, delegitimize and de-pants … hourly … day after day, with no conceivable end in sight. I'm convinced this is true because Trump, a demonstrably ill-formed, unstable and isolated personality, is not capable of transforming himself, like Madonna or Lady Gaga, to meet changes in public tastes. As this resistance grows, as it has with each adolescent Tweet, white nationalist/mega banker appointment and bungled military operation, Trump can only double down … and down and down again … as the rage swells up.
So here are a few things I've recently taken encouragement from.
1: The Harley-Davidson people, fully understanding the certainty that a Presidential visit to their Milwaukee headquarters would fire up an enormous and angry demonstration outside their factory, kind of ruining their anniversary party, thought better of Trump in Wisconsin. So the motorcycle execs went to the White House instead. This is a fascinating precedent. How does Trump go … anywhere … without inciting angry, mocking protests? Presidential factory visits are about as routine as it gets. But not with Trump, and not ever is my bet. He may be able to pull off a completely cordoned-off, quarantined "victory lap rally" in, I don't know, West Virginia opioid, I mean, coal country, but where else? And even then the perimeters of that scene would be pretty unruly. Put another way, can you imagine Trump wandering around Minneapolis for a couple days, having a come one-come all appearance at Minnehaha Falls and knocking back a Juicy Lucy at Matt's a la Obama? The mind reels at the protest possibilities, not to mention Matt's owners pleading with him to stay away. Hell, good luck to any member of Congress risking a town hall in their own district with this fool in office.
2: Earnest, hyper-cautious second-tier newspapers like the Star Tribune, which have long relied on The New York Times for their national and international news coverage, are routinely re-printing Times stories full of appalling-to-hilarious details of Trump's corruption and incompetence. The Times recently added $5 million to its budget to excavate more of Trump's astonishing malfeasance. I'm still waiting to hear how NPR and MPR adjust to this new reality, but every outlet relying on the Times is running (some of) its stuff and feeding the fires of the resistance, with real facts, not the alternative ones. There's no reason to think that will stop or slow down since, as the song goes, we've only just begun.
3: Pop culture, which I've mentioned before, is rapidly and with near unanimity coalescing around the concept of Trump as Toxic, Racist Buffoon. From Melissa McCarthy's spit-take inducing takedown of the hapless Sean Spicer, to Alec Baldwin (and Bannon the Grim Reaper), to a refocused and re-energized Stephen Colbert, to an explosion of wall art around the world ridiculing Trump, to a ceaseless flow of GIFs and social media memes Trump is gold, or is it orange? manna dropping from the skies like a bombardment of frozen turkeys. (Note multiple metaphors.)  And if you argue that all those "smug, urban elites" are just flogging the choir, check out the sports stars, most of them black at the moment, declining the "honor" of shaking Trump's hand. Steph Curry of the Golden State Warriors today, and I have a real hard time seeing LeBron James grippin' and grinnin' with a shameless liar and unrepentant race-baiter if the Cavaliers repeat this spring. Not good optics, man. Much like the boycott of his red neck inaugural gala, being publicly-and-loudly opposed to Trump is a badge of honor for an overwhelming percentage of America's cultural heroes.
So yeah, Bannon and DeVos and Jeff Sessions and KellyAnne and the rest of the preposterous mob are in office, screwing things up and doing what they can to recreate some kind of white, patriarchal fiefdom here in the US of A. But, unlike anything we've ever seen before, there is a broad, clever, swelling, well-informed and deeply invigorated resistance undermining, mocking and vilifying them for being the walking frauds and catastrophes they are.
And it's all on TV. It's the American way.