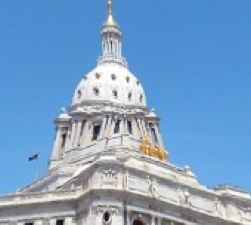 Throughout the Senate Sexgate scandal, GOP former Minnesota Senate staffer Michael Brodkorb has been threatening to disclose the names of Senators and staffers who have had sexual relations with each other but were not fired for their behavior, as Brodkorb alleges he was.  The former author of "Minnesota Democrats Exposed" now is preparing to effectively author what could be called "Minnesota Fornicators Exposed."
As a non-lawyer, my legal opinion is worth roughly as much as readers are paying for access to this blog.   But it would seem Brodkorb's tell-all threat is a stronger negotiating weapon than  courtroom weapon.
As a negotiating tactic, Brodkorb's disclosure threat probably caused many with lipstick on their collars to favor a prompt and generous settlement for Mr. Brodkorb.  Because in the court of public opinion, and the court of spousal opinion, such disclosures certainly would pack a punch.
But in the court of law, Brodkorb now has to PROVE the affairs actually happened, long after-the-fact.  Proving them could be difficult.  The DNA evidence is long gone, the parties to the porking may not be truthful, and the odds of there being eyewitnesses to any of the lustful legislative liaisons would seem slim.
Again, I don't deny that threats about rumors were powerful motivators in settlement negotiations.  But in the court of law, Mr. Brodkorb now faces a burden of proof more rigorous than what is used in the blogosphere and Capitol hallway gossip sessions.
Anyway, if it looks like the Capitol Building's Rotunda walls are a bit concave these days, it may be because so many the building's inhabitants are collectively sucking in their breath.