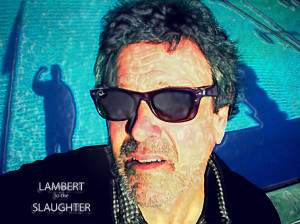 One night a couple of years ago, while taking a short cut across the Las Vegas Strip, I was stopped at a police road block. At least a dozen cops and a half-dozen police cruisers had cordoned off the side street and were supervising eight or nine semis maneuvering to unload at the freight dock of some large building.
Vegas hosts a non-stop run of trade shows, but come on! Maybe you need two cops to hold back traffic for a couple of minutes. What's this all about?
As the huge trucks slowly angled into the docks I craned my neck over to passenger's side to see where exactly they were going. The Sands Expo Center. And below it a banner announcing the "36th Annual SHOT Show", the world's biggest gun and ammo show, a production of The National Shooting Sports Foundation, a "gun enthusiasts" organization based, very ironically, in Newtown, CT.
The Vegas cops were there to protect a convoy of semis [which came across what public highway with how much protection?] loaded with hundreds-to-thousands of guns and rounds of ammunition.
There is no reason to believe this week's epic mass slaughter — again, very ironically, at a country music concert in Las Vegas — will have any effect at all on the dwindling percentage of Americans feverishly clinging to the Second Amendment as the most vital of all the words of the U.S. Constitution. As statistics tell us, while each year there are fewer Americans owning guns, those that do, like Stephen Paddock, the Vegas shooter, as with an addict, are stockpiling both guns and ammo, with eight being the current average number of guns in their personal arsenals. [As the link above notes, 3% of America's "gun enthusiasts" own 50% of the weapons. Paddock owned over 40.]
Discussions about the fragile psychology of these "gun enthusiasts", (the polite description often used by the non-partisan press), have proven pointless. The credible accusation that someone, mostly white males, stockpiling an arsenal in their demonstrably peaceful suburbs and out on their ranches, has serious masculinity insecurity issues only increases their conviction that they and their "way of life" are under attack. At which point, their paranoia spiking,  they rush out and buy more guns and bullets.
In a country now more heavily armed per capita than [bleeping] Yemen, and far more than any other place on the planet, there isn't a flicker of hope that any significant gun regulation will come out of this week's massacre. We all remember that the response of the Republican congress to the Newtown slaughter was to further weaken gun laws. [Here's another useful set of stats, if, as The Dude says, you're not into that whole brevity thing.]]
In a rational environment, there would at the very least be a terrorist watch list-like data base of people buying up multiple numbers of guns and the thousands of rounds of ammo so many of these killers manage to acquire. [A $5 tax per bullet might slow things down a bit, too.] There would also be a rational acceptance of the fact that — if getting killed by a psychopath is something you worry about — the chances of that guy being a middle-aged-to-older white guy far exceeds the likelihood of him being a muslim. [As close as we're likely to get to a definitive comparison, over the 10 years from 2005 to 2015, there were  71 deaths on American soil due to "terrorism" and over 301,000 to "normal" gun violence. Remind yourself of that the next time the news kids go berserk over a "terror link."]
But we left "rational" behind generations ago. A huge part of the American myth — powerfully abetted by pop culture — is that our "freedoms" were born out of and sustained by firepower and that male potency is directly linked, infused if you will, with threats and displays of violence. Never mind every statistic available proving that we are living in one of the least violent and threatening periods of human existence.
If there is a glimmer of hope anywhere it may be in the Supreme Court's decision on Wisconsin's gerry-mandering. If the court at long, long last concurs that congressional districts designed to sustain a particular party affiliation is, you know, not what the Founding Fathers had in mind, it would mean that rural politicians would have to appeal to someone other than the reddest meat of their pro-Second Amendment constituency. It might well mean that the NRA's choke-chain on every Republican and all but a couple of Blue Dog Democrats, like Minnesota Collin Peterson, would show a little slack.
But the psycho-sensory effect of a loaded gun in the hand of a guy with a weak sense of his masculinity is so powerful it truly is a primal, primary motivation in his life.
Good luck changing that.