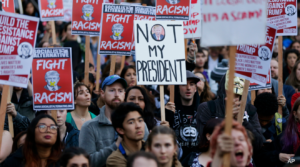 Donald Trump is my President.
Those are five words that are painful for me to say or write. But I don't buy into the "not my President" rallying cry of so many of my well-intentioned friends. I'm a citizen of a nation that uses a representative democracy form of government. Our collective democracy chose, via the electoral college system established in our Constitution, Donald J. Trump to lead us for the next four years. God help us, it's true and immutable.
So I don't say "not my President." I say "not my values." I say "not my morals." I say "not my policies." Citizens are allowed to have different values, morals and policy preferences than their President.   But we can't wish away our President.  Believe me, I've tried.  It doesn't work.
I also claim Donald Trump as my President because I shouldn't be let off the hook. Using those words continually reminds me that I'm partly culpable for the American embarrassment that is "President Donald J. Trump."
No American citizen should be able to wash their hands of this national embarassment with a cavalier "not my President." We are all part of the nation that elected this clown, and those of us who want that to change need to do more to win the hearts and minds of that nation, including the nearly 46.9% of Americans who didn't vote. Donate. Speak out. Volunteer. Reform the system. Choose more compelling candidates. Support better journalism.  Own it.
It's as important to say as it is painful: Donald J. Trump is my President. Shame on me.