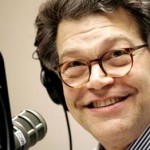 When Al Franken announced in 2007 that he was running for the Minnesota U.S. Senate seat then held by Norm Coleman, I was worried whether he could sell in the land of Minnesota Nice.  Like others, I had an image of what I expected to see in Senator Al Franken. I expected to see a wise-cracking, fire-breathing, attention-seeking political hack who was constantly making mild mannered Minnesotans roll their eyes during an endless tour of contentious cable TV and talk radio appearances.
In other words, I expected Senator Al to be a lot like the Al that appeared on Air America Radio, and in books with titles like "Rush Limbaugh is a Big Fat Idiot."  I expected him to be, well, Michele Bachmann.  And Bachmann doesn't sell statewide.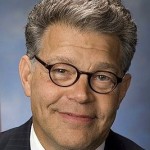 Last night, I was reminded once again  how wrong I was.  During MSNBC coverage of the Democratic Convention, host Rachel Maddow, Al's former Air America Radio colleague, became positively giddy when the network secured a very brief, non-substantive interview with Franken.  Maddow repeatedly noted that Franken doesn't give interviews to national media outlets, even to liberal outlets, even to outlets populated by his pleading friends and former colleagues. As Senator, Franken apparently has gone cold turkey on cable.
Moreover, what Franken said last night in the MSNBC interview was telling.  He repeatedly tried to put the national spotlight on his fellow Minnesotans, not just himself.  And frankly, he was only mildly funny, and pretty boring.
I have to imagine this is all by design.  Underexposed by design.  Locally focused by design.  Only mildly humorous by design.  Dispassionate by design.   Franken and his team have successfully navigated the evolution of Firebrand Comedian Franken, a national figure, to Thoughtful Senator Franken, a Minnesota figure.
And in Minnesota, it's working.  Here is what a recent Public Policy Polling survey found about Franken's political strength at home:
 Al Franken's proven to be a stronger than might have been expected Senator. 50% of voters approve of him to 36% who disapprove. Democrats have ended up being pretty universally happy with him (85/4) and he's strong with independents as well (48/33).

Franken leads hypothetical contests with Minnesota's three leading Republicans. He has a 51-41 advantage over Norm Coleman, a 52-41 one over Tim Pawlenty, and a 57-35 advantage on Michele Bachmann. It's impossible to say what the political climate will look like in 2014, but at least for now Franken finds himself in a strong position.
In 2008, Franken defeated Norm Coleman, now a Super PACman, by the slimmest of margins.  Now, polls show he would defeat Coleman handily, as well as the state's other leading Republicans.
The lesson?  Al is minding his Minnesota manners, and it matters to Minnesotans.
- Loveland
Note:  This post was also featured in the Politics in Minnesota Morning Report "Best of the Blogs" feature