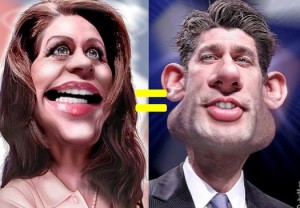 Congressman Paul Ryan comes across well.  He's attractive, smiles a lot, wears the presidential uniform well, and has a ready string of impressive-sounding statistics on the tip of his tongue.
But beyond the candidate packaging, what does this guy stand for?
When trying to understand something new entering our lives, the natural tendency is to seek out a local point-of-reference.  For instance, when Minnesota Timberwolves fans recently asked "who the heck is Alexy Shved," a player the Wolves' brain trust acquired this summer, Wolves PR people explained "He's the Russian Rubio," referencing their talented point guard Ricky Rubio.
Whether or not the "Russian Rubio" description turns out to be an apt description of Shved's ability and style of play, it connected with Minnesotans, because it took something unknown and linked it to something known.
So with the Russian Rubio example in mind, what's the Minnesota parallel to Wisconsin Congressman Paul Ryan?
Since he's a popular, moderate-feeling Republican, is he "the Wisconsin Jim Ramstad?"   Since the Beltway media often labels him a "serious" numbers guy, is he "the Wisconsin Arne Carlson?"
Try "the Wisconsin Michele Bachmann." An analysis of congressional voting patterns by DW-Nominate found that Paul Ryan's voting record is nearly identical to  Michele Bachmann's, the local politician who most consistently embarrasses Minnesotans with her ideologically extreme positions.
(Incidentally, another analysis found that Ryan was the most extreme conservative vice presidential nominee — the furthest from the center — since at least 1900.)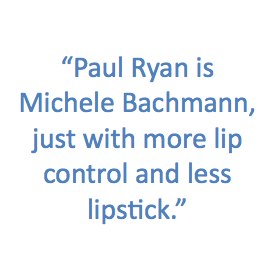 Ryan's tone may be less grating than Bachmann's, but once you remove the packaging, his policies are almost identical to Michele Bachmann's.  Paul Ryan is Michele Bachmann, just with more lip control and less lipstick.
Knowing that, ask yourself this question: "If Mitt Romney had chosen Michele Bachman for his running mate, would that make Minnesotans more or less likely to support Romney?"  Because, substantively, that is the question Romney has now effectively posed to Minnesotans, and Americans.
Though Michele Bachman continually gets reelected in one of the most conservative parts of Minnesota, she is remarkably unpopular with Minnesotans as a whole.  A January 2012 PPP survey found that only 34% of Minnesotans view her favorably, while 57% view her unfavorably.  She would get crushed by a whopping 23 points in a head-to-head race versus U.S. Senator Amy Kloubachar.
In other words, Governor Mitt Romney just picked the ideological twin of one of Minnesota's least popular figures to join his ticket.  Good luck selling that in Minnesota.
- Loveland