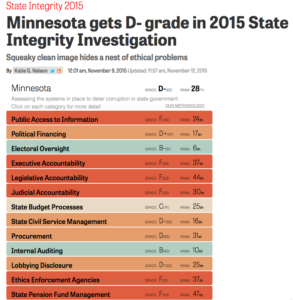 When Republicans took over the Minnesota House of Representatives, they got their chance to show Minnesotans their preferred style of governing.
Think of all of the things Republicans could have done to strut their stuff for voters. They could have enacted reforms to improve Minnesota laws regarding public access to information. They might have reformed Minnesota laws related to legislative accountability, ethics enforcement or state pension fund management. After all, the Center for Public Integrity gives Minnesota — a state that often can't stop congratulating itself about how ethical it's government is — an "F" grade in all of those areas.  DFLers didn't improve governnance in those areas, so Republicans could have showed them up.
But instead, Republicans leaders have, I kid you not, installed a "master mute" button in the House chambers to shush debate that discomforts them.  MinnPost's Briana Bierschbach  explains the scene when Minnesota's first learned of the button's existence:
On May 22 (2016), with less than an hour to go before a deadline to finish work for the 2016 legislative session, the bonding bill landed on the floor of the Minnesota House of Representatives.

Republican House Speaker Kurt Daudt, standing at the rostrum in front of the chamber, quickly readied the nearly $1 billion package of construction projects for a final vote, but Democrats in the minority weren't happy. Several members picked up their microphones and shouted in protest, saying there wasn't enough time to read the entire bill, much less make any changes to the proposal.

Then an odd thing happened: For those watching the chaos on the House chamber's livestream video feed, the shouting abruptly stopped. Then it started back up, until suddenly voices were cut off again, some midsentence. Daudt, who is shown in the House video standing at the rostrum, pushes something off to his right on the desk several times.

It turns out Daudt was utilizing a new feature installed in the Minnesota House chambers ahead of the 2016 session: A "master mute" button.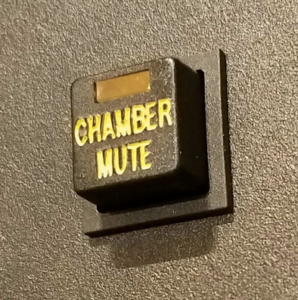 The reality of the mute button is pretty horrifying. Regulating debate should continue to be done with the traditional, predictable, and ever-civil Mason's Manual of Legislative Procedure, not the impulsive flick of a politicians' index finger.  Mason's doesn't need a mute.
But as bad as the reality of the mute button is, the political optics is worse. Keep in mind the national context for this Minnesota action. At the national level, we have a Republican Congressman bellowing "you lie" in the middle of a President's State of the Union Address. We have a Republican U.S. Senate Leader  censoring and scolding a Senator for daring to quote a civil rights leader's assessment of a nominee tasked with enforcing the nation's civil rights laws. We have a Republican President who cuts off anyone who questions him with a loud and dismissive "quiet," "no you're the puppet," "you're a nasty woman," "go back to UniVision," "wrong, "get em outta here," and "knock the crap outta them."
With that as Minnesota Republicans' ignominious national backdrop, you would think they would be working extra hard to show that they are as civil and transparent as Minnesotans demand. But if you wanted to showcase a party's insecurity, hubris, and disrespect for free speech, you could not come up with a more outrageous prop than a "master mute" button. It feels like something out of an over-the-top Saturday Night Live or Monte Python skit, not something a state party would do to prove that it isn't as rude and authoritarian as it's historically unpopular national leader.  Minnesota Republicans are absolutely tone-deaf on this issue.
The Minnesota House's mute button is obscene and an attack on our free speech values. So legislators, let's immediately vote to remove it, apologize to Minnesotans, snip the wires, patch the shameful podium scar, and move forward with blissfully raucous democratic debates about improving ordinary Minnesotans' lives.