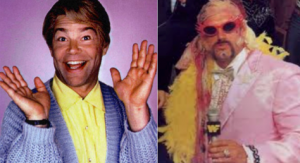 Minnesota Senator Al Franken doesn't have a high profile challenger yet in the 2014 U.S. Senate race.  People don't seem to be flocking to run against Franken at a time when a January 2013 Public Policy Polling (PPP) survey is finding that Senator Franken is leading former U.S. Senator Norm Coleman by 6 points, Congressman John Kline by 8 points, Congressman Erik Paulsen by 11 points and Congresswoman Michele Bachman by 14 points.
Despite these findings, 45% of Minnesota Republicans want to nominate Bachmann to oppose Franken. I would be in Blogger Heaven if a Franken-Bachmann race came to be, but I find it difficult to imagine that I, or Franken, could possibly be so lucky.
Given that the conventional candidates like Coleman looks to be taking a pass at the Senate race, maybe it's time for the Minnesota GOP brain trust to get unconventional.  These are some of the match-ups that I personally day dream about:
Ventura-Franken. Both former Minnesota Governor Jesse Ventura and Al Franken were outrageous TV entertainers, talk radio hosts, and authors before they became politicians, so this would be a dream match-up.  If you want a taste of what kind of race this would be, remember that Jesse used his gubernatorial bully pulpit to let the world know of his dream to be reincarnated as a 38 double-D bra, and Al once observed, "Republicans are shameless d**ks. No, that's not fair. Republican politicians are shameless d**ks." Friends, this is a debate that even the viewers of Here Comes Honey Boo-Boo might actually watch.
Macdonald-Franken.  Norm Macdonald was Franken's Saturday Night Live (SNL) nemesis who won the SNL Weekend Update anchor assignment over Franken.  Therefore, Franken-Macdonald would seem a natural for a grudge re-match.  Macdonald is pro-life. Franken is pro-choice.  Franken admired liberal Paul Wellstone. Macdonald admired conservative Ronald Reagan.  Macdonald also earned his political bona fides in memorable post-SNL roles, such as in Deuce Bigalow: Male Gigolo and Deuce Bigalow: Eurpoean Gigolo.  Would a role as a Super PAC gigolo in a U.S. Senate race really be such a stretch?
Quist-Franken.  As a comedian, Franken is thought to be a funny guy.  But former Minnesota state legislator Allen Quist has pretty good material himself.  For instance, the right wing conservative Christian pol tells tales about dinosaurs living alongside humans as recently as the 12th Century. (rimshot)  And Quist also compares the morals of gay people with the morals of the Ku Klux Klan members (laugh track).  Top that, Stuart Smalley.
Bills-Franken.  Kurt Bills was a Minnesota State Senator, and strong supporter of libertarian presidential candidate Ron Paul before he lost to U.S. Senator Amy Kloubachar in 2012 by 34 points. Like Franken, Bills also makes some pretty bad movies, so the pairing seems natural.  Note:  Mr. Bills is not to be confused with Franken's SNL colleague Mr. Bill, though both did conclude their public careers flattened.
Limbaugh-Franken.  Now this would be fun.  As we all know, these two men are not exactly nuanced in their criticism of each other. Franken famously asserted that "Rush Limbaugh Is a Big, Fat Idiot," while and Limbaugh said that Franken is a Muslim who stole his Senate seat Ahmadinejad style.  The sure to be lively Limbaugh-Franken debates could be held in an octogonal cage, with Gary Eichten presiding, at the Fitzgerald Theater.
Politics is a serious business, and elections have important ramifications for our everyday lives.  But they also can have an entertaining side.  So, a boy can dream, can't he?
- Loveland
Note:  This post was also featured in Politics in Minnesota's Best of the Blogs.