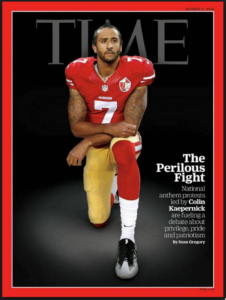 The NFL continually promotes itself as a meritocracy, a place where the most meritorious players make the teams and racial, ethnicity and socioeconomic status are irrelevant. They say it's about performance, period.
But the glaring exception to the meritocracy rule is political speech.
Exercising free speech rights does seem to keep talented players off the field.  For instance, God help you if you are a player who speaks out in defense of human rights for gay people. Just ask former Minnesota Vikings punter Chris Kluwe. After he advocated for gay rights, Kluwe was harassed by his coach and ultimately his NFL career ended abruptly, despite the fact that analysts say Kluwe's statistics were some of the best in the Vikings 56-year history.
Then there's Colin Kaepernick, who silently protested racial inequality and police brutality by taking a knee during the national anthem.  After exercising his free speech rights, Kaepernick also couldn't get a job, despite having a better on-field performance record than half of the backup quarterbacks on NFL rosters, according to a Washington Post review.  An excerpt from the Post's 2016  analysis:
If you look at Total Quarterback Rating (Total QBR), Kaepernick would be an upgrade over at least half of the backups in the league today, not including rookies. That list is 18 players long and includes Landry Jones, Case Keenum, Matt Barkley, Nick Foles, Scott Tolzien, Geno Smith, Paxton Lynch, Drew Stanton, Bryce Petty, Cardale Jones, Matt Schaub, Derek Anderson, Connor Cook, Brett Hundley, Ryan Mallett, Sean Mannion and Kellen Clemens. Based on down, distance and field position, he helped the 49ers score 30 more points than expected last season through his passing prowess, per ESPN Stats and Information. His 0.09 points added per pass attempt in 2016 is greater than 15 of the backup quarterbacks available or currently on a depth chart.

Kaepernick (55.2) ranked 23rd out of 30 qualified passers in 2016 QBR, placing him ahead of starters like Ryan Tannehill, Cam Newton, Carson Wentz, Eli Manning, Blake Bortles, Ryan Fitzpatrick and Case Keenum.

No one is suggesting he should be a starter in the NFL, but the numbers clearly show he would be a smart addition as a backup quarterback.
Despite these facts, this offseason the Minnesota Vikings avoided Kaepernick like he was Spergon Wynn. The same Vikings team that ran off the politically minded Kluwe wouldn't even consider signing the politically minded Kaepernick, despite his solid body of work on the field, and a presumably modest salary requirements.
Instead, the Vikings signed Case Keenum, who is statistically inferior to Kaepernick, and Minnesota Gopher alum Mitch Leidner, a below average college player and undrafted rookie. While the hometown boy Leidner probably won't make the team, he was given a chance. Meanwhile, a completely untested and lackluster prospect, Taylor Heinicke, will likely be named the other backup if the Vikings keep three quarterbacks.  So, Keenum, Heinike, and Leidner over Kaepernick, and 31 other teams also took a pass.  Meritocracy my ass.
The NFL is very patriotic, so it needs to save us from the Kluwes and Kaepernicks.  By the way, some of its patriotism is a profit center.   Until recently, the Pentagon was secretly paying NFL teams as much as a million dollars per game in tax dollars to hold a moment of silence to honor veterans.  What fans assumed to be the hometown team's heartfelt gesture was actually paid patriotism — a big buck commercial to lure local kids into the military.
There is nothing more American than exercising your free speech rights to promote equality, particularly when you know it will come at a huge financial cost.  What Kluwe and Kaepernick have been doing to improve their country is far more patriotic than the NFL's hollow Pentagon-financed pay-for-patriotism stagecraft.