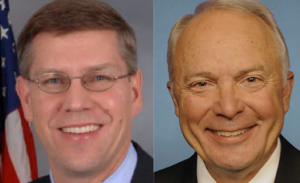 In the past, I've been critical of Minnesota Republican  Congressmen John Kline and Erik Paulsen for not doing enough to address America's chronic unemployment problem.  But I have to hand it to them, because yesterday they passed legislation ending the government shutdown that will immediately put 800,000 Americans back to work, and stabilize the economic position of many others.  That's fantastic news.
Unfortunately, Paulsen and Kline haven't always been so strong supporting job creation for Americans.  They both refused to support President Obama's 2009 American Recovery and Reinvestment Act that, according to the independent, non-partisan organization FactCheck.org, created a whole lot of jobs:
"…the nonpartisan Congressional Budget Office released a report in August that said the stimulus bill has "[l]owered the unemployment rate by between 0.7 percentage points and 1.8 percentage points" and "[i]ncreased the number of people employed by between 1.4 million and 3.3 million."

Simply put, more people would be unemployed if not for the stimulus bill. The exact number of jobs created and saved is difficult to estimate, but nonpartisan economists say there's no doubt that the number is positive."
Paulsen and Kline have also refused to support pending legislation proposed by President Obama, the American Jobs Act, that, according to private sector experts, would stimulate millions of more jobs:
Moody's Analytics Chief Economist Mark Zandi: "The fiscal boost from the jobs package next year would be larger than in the first year of the 2009 economic stimulus, said Mark Zandi, chief economist at Moody's Analytics Inc. Zandi, who was briefed on the plan before the president's speech, forecast passage of the entire jobs package would add 2 percentage points to economic growth next year and bring down the unemployment rate by 1 percentage point compared with current policy, under which a temporary payroll tax cut and an extended unemployment benefits both expire Dec. 31."

This morning Economic Forecasting FirmMacroeconomic Advisers issued a report: "We estimate that the American Jobs Act (AJA), if enacted, would give a significant boost to GDP and employment over the near-term. The various tax cuts aimed at raising workers' after-tax income and encouraging hiring and investing, combined with the spending increases aimed at maintaining state & local employment and funding infrastructure modernization, would: Boost the level of GDP by 1.3% by the end of 2012, and by 0.2% by the end of 2013. Raise nonfarm establishment employment by 1.3 million by the end of 2012 and 0.8 million by the end of 2013, relative to the baseline."

…Citigroup Chairman Richard Parsons said, "The President's proposed combination of personal and business tax relief, targeted spending to support infrastructure, and aid to states offers several direct and innovative ways of creating jobs and bolstering our economy. The President's focus on assisting small business is spot on, since small business is the engine of job creation."
Finally, Paulsen and Kline have refused to support legislation to end the "sequester" of billions of dollars federal funds.  CBO economists say lifting these spending cuts would immediately add millions more jobs for the American people.
The nonpartisan Congressional Budget Office on Thursday estimated that keeping the spending cuts from sequestration in place through fiscal 2014 would cost up to 1.6 million jobs.

Canceling the cuts, on the other hand, would yield between 300,000 to 1.6 million new jobs, with the most likely outcome being the addition of 900,000, the CBO said.

"Those changes would increase the level of real (inflation-adjusted) gross domestic product (GDP) by 0.7 percent and increase the level of employment by 0.9 million in the third quarter of calendar year 2014 (the end of fiscal year 2014) relative to the levels projected under current law," the report states.
Again, these are the job creation bills that Kline and Paulsen have historically refused to support.
But I do want to give credit where credit is due.  The bipartisan legislation Paulsen and Kline supported yesterday will immediately put 800,000 more Americans back to work, and end a government shutdown that will have cost taxpayers, according to Standard and Poors, about $24 billion.  That's $24 billion that isn't circulating in the economy creating jobs.
Forget that Kline and Paulsen originally did nothing to speak out against their fellow House Republicans who were giddy in forcing these 800,000 Americans out of work.  At long last, Paulsen and Kline have supported a jobs bill.  Here's hoping it's the beginning of a trend.
– Loveland
Note:  This post also was featured in Minnpost's Blog Cabin.