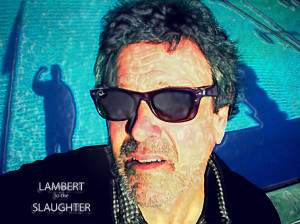 With Greg "The Body-Slammer" Gianforte's unequivocal victory in Montana last night there's a lot of hand-wringing talk about how this is the latest example of "The Trump Effect", "the fish rotting from the head down", yadda yadda. And with the statistically demonstrable upsurge in anti-Muslim activity around the country, compounding what is already an intolerable level of racist attitudes by authority figures, it's hard to make a case that The Donald's success hasn't unleashed something pretty sick and unevolved in our "shining city on the hill".
But come on. Donald Trump, essentially an ideological illiterate, a guy whose trademark is exploiting weaknesses, financial, political and moral, to his personal advantage hardly invented the pig-headed brutishness displayed by Republican candidate Gianforte or his Big Sky supporters, (many of who possibly voted for him before he smacked that "aggressive liberal journalist" to the ground.)
I've been on a couple "Fake News" panels in recent weeks and my now standard line is that "fake news", with all the demagogic recklessness and viciousness attached to it is part of an established, profitable and electorally successful  continuum from — to pick a recent start point — talk radio in the early 1990s, FoxNews in the mid-to-late '90s, all the crackpot websites of the mid-aughts to Trump's victory last fall. Point being, Trump exploited the grievance-saturated messaging of all that came before him to draw out a crowd that had been sitting on the sidelines for years and propel him to victory. Whether he personally believes any of what he bellowed at them hardly matters. (In sales, it's often the bullshit — the not caring if something is true or false — that closes the deal.)
Trump is the product of every "conservative entertainment complex" huckster and every Republican politician who kow-towed to … a collection of radio jocks. They are the head of the rotting fish. Trump is just a guy who applied full caricature to the extant mob mentality and got himself appointed grand marshal of their parade.
This "Anyone Who Kicks Ass on A Pencil-Necked Liberal East Coast Faggot Reporter Is My Kinda Guy" moment in Montana comes simultaneous with Sean Hannity's on-going, obnoxious exploitation of a young guy's murder in D.C. — in his cynical, fevered mind a clear connection to Cruella de Vil rat-bastard Hillary Clinton and everyone trying to blockade The Donald's visionary conservative plan to make 'Murica great again. While even FoxNews has reversed course on the story, Hannity has persisted, despite repeated pleas from the kid's family to stop the aggravation of their suffering.
But the carefully strategized, generation-long interplay of low information news, shameless delusion and naked grievance — and oh hell, through in a fat dose of barroom clodishness — has worked so well for Hannity (and FoxNews under Roger Ailes) that it's impossible to resist. Junkies to the next meth hit, my friends.
By the way, hat tip to pal Jim Leinfelder for alerting me to this classic Matt Taibbi screed at Rolling Stone on the passing of Ailes and culture, of Gianforte-style Republicanism.