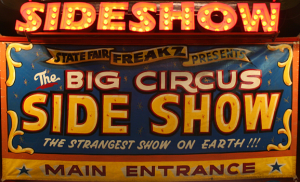 The antics of Republican members of the Minnesota State Legislature used to be a reliable source of gasps and guffaws. Over recent years, Republican legislators have been obsessed with regulating gay couple's love lives and straight citizen's sexual health. They continually attempted to have their narrow religious views dictate the governance of a pluralistic society. They compared poverty stricken families to wild animals who shouldn't be fed, and backed up that ugly rhetoric with deep cuts in human services for those families.  They shut down of state government in an attempt to make services in Minnesota more Mississippi-ish
These were not Republicans in the mold of Elmer Anderson, Al Quie, Arne Carlson, Duane Benson or David Jennings. These were Republicans in the mold of Bradlee Dean, Michael Brodkorb, Wayne LaPierre, Cliven Bundy, Donald Trump and Rush Limbaugh.
But in the 2015 legislative session, Republican legislators were an unusually controlled bunch. They did boring and constructive things, such as changing how nursing homes were reimbursed. They even proposed modest k-12 education funding increases, and ultimately accepted the much larger funding formula increases promoted by DFLers.
Yes, Republican legislators still did some things that don't make any sense. For instance, they ran for election in 2014 on the need to fix a long list of deteriorating roads and bridges, then inexplicably opposed the revenue increases necessary to get the work done. They still want to weaken minimum wages, despite the most pronounced income disparity since the 1920s and the lack of any evidence that last year's minimum wage hike is damaging the economy.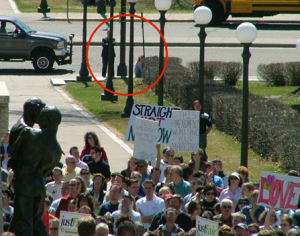 But to my knowledge, there were no legislators hiding in the shrubbery at gay rights rallies this year. There was no legislator-fueled politicizing of the morning prayer with hateful castigations of the President and gay people. There were no throwback campaigns to enact a state currency or Confederacy-style nullification laws.
At a time when Republicans at the national level could scarcely be more absurd, Minnesota's Republican leaders seem to have at least temporarily kept the most extreme elements of their fragile coalition – religious fundamentalists, fiscal libertarians, paranoid gun enthusiasts, bedroom cops, and hyper-partisan jihadists – quietly mumbling to themselves instead of in the headlines.
For the sake of Minnesota's collective future, let's hope that's a trend that continues. With a dangerous achievement gap,deteriorating infrastructure, and a lot of families finding upward mobility out of reach, we have a lot of work to do.   But for the sake of humor-dependent bloggers, hear's hoping the silence of the extremists is short-lived.