My kids are all too aware of my unhealthy obsession with the Minnesota Vikings, so for Christmas they splurged and got me a "Legacy Brick", which will be part of the plaza on the front porch of the Vikings new stadium.
I'm embarrassed to admit how much this gift pleased me.  After all, I'm a grown ass man. I understand this is just an appeal to vanity and hero worship as a way to have rubes like me finance an asset that will make billionaire Vikings owner Zygi Wilf wealthier.
But come on, it's granite, with my name on it, in the Vikings' front yard! How AWESOME is that? The Vikings and I were both born in 1961, and I and other family members, living and dead, have closely followed them for as long as I can remember.  This is a chance to memorialize our collective misery.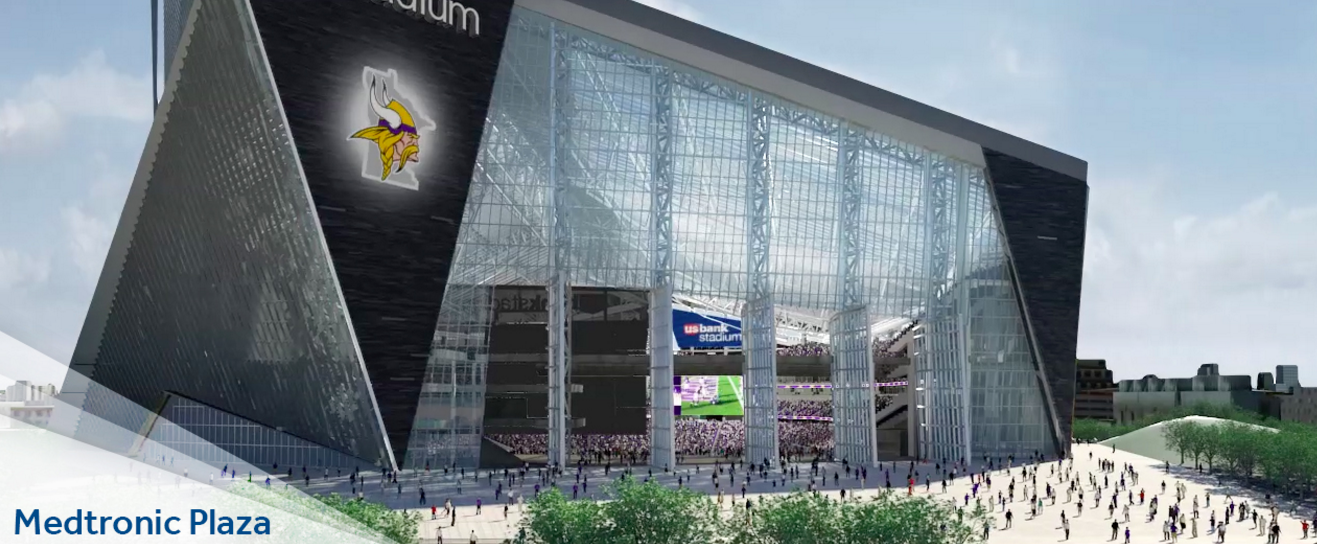 Better yet for a guy who likes to write, the accompanying brochure pledges that "your personal message" will be engraved on the brick. Hot damn, a blank slate!
As a long-suffering fan of the historically snake bit franchise, my mind immediately went to trolling. That is, I considered capturing a grievances in granite.
For instance, in homage to the embattled offensive tackle Matt Kalil, who fans particularly love to hate when the offense is sputtering, I considered a paver inscribed, "Walk all over me, just like Kalil gets walked on." Petty, but gratifying.  Similarly, to celebrate the storied career of the plodding tight end Jimmy Kleinsasser, I thought about submitting "This brick is faster than Kleinsasser."  Or to honor running back Adrian Peterson (AP), who has 33 maddening fumbles as part of his Hall of Fame career, I was tempted to go with "Me: One on the ground for my team. AP: 33."
And then there are the numerous scandals that could have been cathartic fodder for brick copy.  The Love Boat sex scandal.  The Adrian Peterson child abuse.  The endless player prosecutions.  The arrogance and immaturity of Randy Moss.
I also considered commemorating my own lameness as a fan. I waxed nostalgic about a frigid day in December 1980 when a boyhood friend and I left a game at Met Stadium early. As it turns out, we missed seeing the greatest comeback victory in Vikings history against the Cleveland Browns, only to be scolded by a highway patrolman during our solemn drive back to South Dakota. The paver could mock us, just as the officer did that day: "You boys left early, huh? 12-14-80."
That friend also suggested a granite haiku that captured the epic tragedy that is Vikings fandom:
Left early against Browns,
Take a knee, wide left Atlanta.
Life of a Vikings fan.
I don't mind telling you, that one made me misty.
Political animal that I am, I also really would have loved to make a political statement, such as "Bought this brick for a billionaire." That would really stick it to The Man, and bring some progressive awareness to the old town square!  It also would effectively clarify that "yeah, I'm a chump alright, but I'm a politically savvy chump!"
Naturally, I considered Packer hating: "Packers fans got 13 championships. I got this brick." I also wondered if I could get this past the censors "Puck the Fackers." See what I did there?
But alas, after all of my fantasizing, I finally read the fine print on the Vikings' website:
Discriminatory, political, offensive, or inappropriate messages as determined by the Minnesota Vikings and MSFA will be declined. References to other NFL teams will not be accepted. The Minnesota Vikings and MSFA reserve the right to approve all brick inscriptions. Inscriptions that do not conform to these inscription guidelines or that are deemed unsuitable will be declined and will require a new inscription to be submitted.
My creative visions all were ruined by the Vikings. Between this censorship and a rather severe character restriction, my options were very limited. So, I played it straight:
Skol or uffda,
bleeding purple
since 1961.
Loveland Family
Booooooring. Schmaltzy!
Hey, but it's my name, in granite, in the Vikings' front yard!