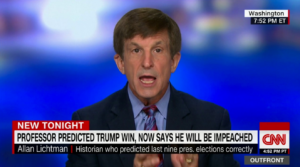 There's a popular theory among the chattering classes that Trump will be impeached fairly soon.  It goes something like this: Republican members of Congress are getting very sick of Trump, because of his incompetence, conflicts-of-interest, Putin slavishness, and overall lunacy. Long-term, they worry that Trump will hurt their brand with the non-extreme swing voters they need to win elections.
So, the theory goes, congressional Republicans will eventually latch on to an impeachable offense, such as a blatant violation of a court order, which would spark a constitutional crisis. Congressional Republicans will then join with Democrats to impeach Trump, knowing all the while that doing so will empower one of their own, Vice President Mike Pence.
To congressional Republicans, Pence, a former member of Congress and Governor, is a comfortable old shoe.  He has extremely conservative positions on social issues that won't sit well with American swing voters.  But he has at least been to charm school, and is competent, administratively speaking. So, the Ryans and McConnells of the world would be relieved to have Pence in the Oval Office instead of Trump.
Anyway, that's the widely discussed theory.
Not Going To Happen
I find it very unlikely. Here's why:
Yes, Trump is committing impeachable offenses.  Yes, most Republican congressional leaders worry about Trump, and much prefer Pence.  That part of the theory makes perfect sense.
But more than anything, congressional Republicans care about winning elections and holding onto their power. That is their lifeblood. To hold on to their seats and their majority, they need to a) survive Republican primary challenges in deep red gerrymandered congressional districts and b) have their hardcore Trump-loving base turn out to vote in general elections.
I believe it is highly likely that a significant slice of the Trump loyalists would stick with Trump, even after an impeachment, and maybe especially after an impeachment.  A significant proportion of the Trump voters will never stop being loyal to him.
After a historically bizarre and controversial campaign season, Trump is currently going through a disastrous transition and first couple of weeks in power.  He has criticism coming at him from all directions, including from prominent conservative leaders.   At the same time, Republicans no longer have the demonized Hillary Clinton to cast in their "lesser of two evils" narrative, which helped them win moderates in the Presidential election.
Despite all of that working against Trump, a Public Policy Polling (PPP) survey recently found that 95 percent of Trump voters still approve of the job Trump is doing, even though only a 47 percent minority of Americans approve, a historically low level for a President in his honeymoon period.  After all of that, 95 percent of Trump voters still approve of his performance.
Clearly, Trump voters are exceptionally loyal to him.  Still, as the Trump-generated outrages continue to pile up, and Trump fatigue sets in, some of that support will die off. Eventually, I could foresee as many as half of the Trump voters changing their mind about Trump.
But even if only half of Trump voters remain loyal to Trump after an impeachment proceeding, the remaining impeachment-inflamed Trump diehards – stoked by the unrepentant pro-Trump messaging machines like Breitbart, InfoWars, and many others — could wreak havoc on incumbent Republicans who supported impeachment. In general elections, a sizable number of post-impeachment Trump loyalists – enraged by the spurning of their hero — could stay home and cause otherwise safe congressional Republicans to lose in November 2018.
None of this is lost on congressional Republicans, who are hyper-sensitive to the Trump voters.  At the end of the day, most Republican Members of Congress seem to care much more about preserving their political power than they do about saving the republic from a crooked, unstable authoritarian. Because of that, and because Trump's hard core loyalist voters will stick with him through just about anything, I just can't see the current Republican majority ever agreeing to impeach Trump.
In other words, unless Trump steps down on his own, I think we're almost certainly stuck with Trump for four years.