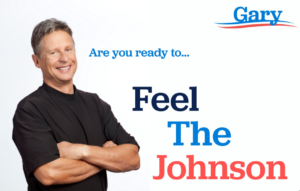 When I started seeing ads and social media chatter about former Republican Governor Gary Johnson running for President, I went to OnTheIssues.org to learn more.
I liked some of what I saw on foreign policy and law enforcement reform, but one line jumped out at me as particularly disturbing. It said Governor Johnson wants to:
"cut the federal budget by 43%."
Just to be clear, a 43% cut in federal spending would constitute a major conservative revolution.  That would bring a much deeper reduction in government services than has been proposed in the past by ultra-conservative firebrands such as Barry Goldwater, Ronald Reagan, Pat Buchanan, Newt Gingrich, John Boehner, Mitch McConnell, Ted Cruz, or Michele Bachmann.
Still, I realize that a 43% cut has surface appeal.  After all, nobody feels a deep affinity for the abstract notion of "the federal government budget." But budgets are collections of individual programs that deliver individual sets of services and benefits to Americans,  so we need to evaluate Johnson's radical austerity plan on a program-by-program basis.
So, my fellow Americans, which federal services are you willing to cut by 43%, as Gary Johnson proposes.
Cut Infrastructure by 43%?  For instance, are the American people willing to cut infrastructure investments by 43%?  Do we want to slash investment in roads, bridges, transit, trains, airports, water and sewage systems, and the like?  A GBA Strategies survey finds that an overwhelming 71% of Americans want to spend $400 million more on infrastructure, not less.  Only 13% oppose such a massive federal government spending increase.
Cut Medicare by 43%?  Do the American people want to cut Medicare by 43%? After all, Medicare is a huge and growing part of the federal budget.  Americans not only don't want to cut Medicare, more than three-fourths (77%) of Americans want to fund a new, massively expensive Medicare-for-All option.  Only 17% oppose such an expansion of government services and spending.
Cut Social Security by 43%?  Maybe Americans want to cut Social Security benefits by 43%?  While Social Security represents an enormous slice of the federal pie, the vast majority of Americans not only don't want to cut Social Security benefits, a whopping 70% want to strengthen them.  Only 15% oppose expanding Social Security benefits.
Cut National Defense by 43%?  What about a 43% cut in national defense spending? Gallup finds that only 32% of Americans support national defense budget cuts.
Cut Other Programs by 43%?  Similarly, the GBA survey finds that an overwhelming majority of Americans want major government spending increases for green energy technology (70% support, 20% oppose), debt-free public higher education (71% support, 19% oppose), and subsidies for high quality child care  (53% support, 33% oppose) . There is no public appetite to cut any of those federal programs by 43%, as Governor Johnson proposes.
In other words,  only a thin slice of the most deeply ultra-conservative voters support Johnson's fiscal austerity ideas.  Therefore, more moderate voters who are concerned about the nation's poor, middle class, national security and global competitiveness need to learn about the implications of Johnson's fiscal proposals before they jump on the Johnson bandwagon.