Former Minnesota Governor Tim Pawlenty is being featured as a "health policy all-star" by the University of Minnesota's Humphrey School of Public Affairs. No, I'm not kidding.

The University event is celebrating the accomplishments of a 2008 Healthcare Transformation Task Force that happened during the Pawlenty years.   Governor Pawlenty is the keynote speaker.  The invitation portrays the Pawlenty years as a time when there was less intense partisan disagreement. Again, not kidding.
Health care policy has generated intense partisan disagreement over the past 5 years. The acrimony has been a sharp departure from Minnesota's long tradition of collaboration among Democrats and Republicans and across the business, non-profit, and public sectors.
I'm not all that familiar with the Task Force's work, but I'm sure it made excellent health care policy contributions.  It's very worthwhile to recognize and reflect on that work, and I applaud the University's Humphrey School for doing that.  If you're interested in health care policy, I'd encourage you to attend the event.
But perhaps the Humphrey School should also invite the community to reflect on some of the big picture differences between health care in Minnesota under the Pawlenty-era policies versus health care in the post-Pawlenty era.  Minnesotans should reflect on the dramatic health care improvements that have happened despite Governor Pawlenty, rather than because of him.
The Good Old Days
Ah 2008, those certainly were the good old days of Pawlenty era health care in Minnesota, back when the rate of health uninsurance was 9.0 percent. In contrast, in the post-Pawlenty era, the rate of uninsurance under Governor Dayton has declined to 4.9 percent, the lowest point in Minnesota history.
This happened largely due of the success of the ACA reforms that Governor Pawlenty persistently and bitterly opposed.  For example, in 2011 Governor Pawlenty revved up a Conservative Political Action Committee (CPAC) audience with this simplistic barn burner:
The individual mandate in ObamaCare is a page right out of the Jimmy Carter playbook. The left simply doesn't understand. The individual mandate reflects completely backwards thinking. They, the bureaucrats, don't tell us what to do. We, the people, tell the government what to do!

We're blessed to live in the freest and most prosperous nation in the history of the world. Our freedom is the very air we breathe. We must repeal Obamacare!
Do you see how much less "intensely partisan" health care policy was five years ago under Governor Pawlenty?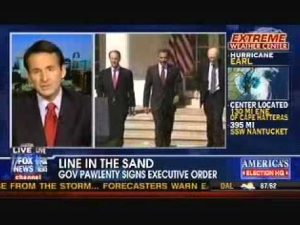 Oh and then there was that super nonpartisan time when Governor Pawlenty, who was preparing to run against President Obama, enacted an executive order to ban Minnesota from accepting any Obamacare-related Medicaid funding to provide health care coverage for 35,000 of Minnesota's most vulnerable citizens. As the Star Tribune reported at the time, even Pawlenty-friendly health industry groups reacted to the highly partisan and punitive Pawlenty ban with unified expression of strong disapproval.
In a rare and unusually sharp statement, heads of Minnesota's most influential medical associations said Pawlenty's step contradicts his earlier embrace of state health care legislation. "The governor's decision just doesn't make sense for Minnesotans," the Minnesota Council of Health Plans, the Minnesota Hospital Association and the Minnesota Medical Association said in a joint statement late Tuesday.
The Post-Pawlenty Health Policy Era
When Governor Dayton took office, he promptly reversed this Pawlenty ban to ensure that 35,000 low-income Minnesotans could get health care coverage.  Governor Dayton took a lot of heat for that decision, but this move started the process of driving down the state's uninsured rate, a trend that has continued throughout the Dayton era.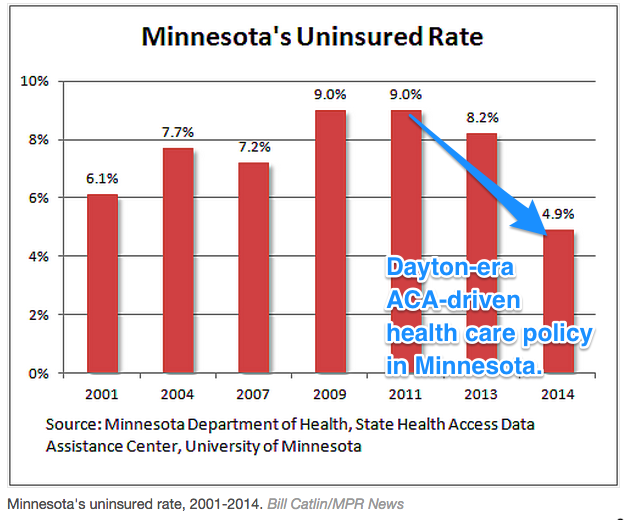 In more ways than many citizens realize, Minnesota has benefited enormously from the ACA reforms that Pawlenty politicized and obstructed.  According to the federal Department of Health and Human Services:
64,514 Minnesotans have gained Medicaid or CHIP coverage
1,465,000 Minnesotans with private health insurance gained preventive service coverage with no cost-sharing
Over 2 million Minnesotans are free from worrying about lifetime limits on coverage
As many as 2,318,738 non-elderly Minnesotans have some type of pre-existing health condition, and no longer can have coverage denied because of that condition
Yes, those Pawlenty years, when the Governor was fighting to keep Minnesotans from enjoying all of these ACA benefits, certainly were the good old days of health care policy.  "Health care policy all-star" indeed!

Note:  This post also was published as part of MinnPost's weekly Blog Cabin feature.