About 16-months ago at Minnesota-based Target Corporation's annual meeting in Pittsburgh, an embattled Target CEO Gregg Steinhafel stressed that Target would heretofore remain neutral on the issue of gay rights, but would continue to make political donations.   A June 9, 2011 Minneapolis St. Paul Business Journal headline characterized the balancing act Steinhafel was attempting:
CEO: Target will be neutral on marriage vote, will still give politically
Steinhafel's neutrality pledge came on the heels of a customer backlash prompted by the corporation making a large political donation to anti-gay rights Minnesota gubernatorial candidate Tom Emmer.  Remember all the news stories, boycotts, social media rants, and flash dance protests?
At the time Steinhafel made this announcement in Pittsburgh, I wondered how Target could  possibly manage to support political candidates while keeping its neutrality pledge, since virtually all candidates take positions on gay rights issues.   After all, the world community would no longer consider Switzerland neutral if it was funding a combatant.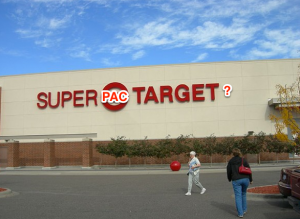 So, what is Target doing now?  In the 2012 election, what candidates are being funded by Target, or has Target decided to stay out of politics altogether?
My drive-by Googling can't find the answer to this question.  After all that coverage and controversy in 2010 and 2011, could it be no business or political reporter has followed up with Target?