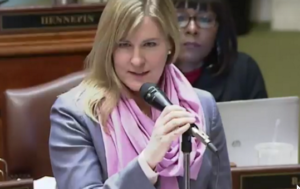 When it comes to the kerfuffle about Minnesota House Minority Leader Melissa Hortman (DFL-Brookly Park) calling out the "100% white male card game in the retiring room" during a House floor debate, most would probably guess that I would be cheering on Hortman.  After all, I'm a committed liberal, and a strong believer that white male privilege has unfairly benefited me and is a significant problem in all aspects of our democracy and society.
But Minority Leader's Hartman's self-righteous speech didn't sit right with me. In that particular case, the use of "white male" felt gratuitous, an over-the-top attempt to inject race and gender as a partisan bludgeon, because the opposition party is increasingly made up of whites and males.
The core objection at that moment was inattentiveness, so why make it about race and gender?  When race and gender get shoehorned into partisan zingers, I worry that it cheapens more legitimate criticisms of serious race and gender discrimination.
Don't get me wrong.  As a white male, I certainly didn't feel discriminated against by Representative Hortman, or in need of an apology, as oh-so-wounded Republican legislators apparently do.  That's silly.  I just thought the "white male" part of Hortman's speech was extraneous to the legitimate core criticism.
More importantly, though, the charge felt hypocritical and selectively applied. Anyone who has spent time at the State Capitol has watched all types of legislators being inattentive during proceedings, often quite brazenly and rudely. Legislators are engrossed in their social media monitoring. They're giggling over whispered inside jokes. They're dozing. They're gossiping in the hallway or back of the room.
Last year about this time, I penned a humor piece entitled "The Five Anthropological Certainties of Minnesota Hearings," and two of the five were dedicated to legislator inattentiveness.
#2. The iPhone Prayer.  The reason legislators continually have their heads bowed is not because they are prayerful or otherwise contemplative. It's because of smart phones.

The hearing observer will quickly notice that legislators much prefer their smart phone to their smart constituents. Therefore, visitors should expect to mostly see the crowns of legislators' heads, as they stare down smirking at their latest epic text or tweet.

You see, the State Legislature is like high school, with its complex network of cliques constantly angling to mistreat each other. But the environment is actually much more toxic than high school, because unlike high school, unlimited smart phone use is permitted in class.

#3. The Extras. Visitors will notice that the least relevant person in the committee room is the lowly testifier. The person delivering testimony is an extra, a volunteer who is cast by legislators to create the illusion of information gathering and democratic participation.

Seemingly unaware of the ruse, many testifiers spend hours earnestly preparing their thoughtful, fact-filled remarks.  But they quickly discover that committee members have much more pressing needs to attend to, such as epic texts and tweets.
You'll notice that the anthropologist's observation was not limited to any one gender, race, party or ethnicity, because the observation applies to just about every single legislator in the building. If you ever have occasion to attend a legislative committee hearing or floor debate, I guarantee you will see plenty of non-white non-males among the inattentive herd.
So, Minority Leader Hortman, thank you for speaking out about the problem of legislators being inattentive during legislative proceedings. That's a worthwhile cause.  I'd encourage you to look at systemic approaches to making the place more respectful of democratic debate and citizen input, such as asking party leaders to be more vigilant and consistent about insisting that their colleagues at least pretend to pay attention during legislative proceedings, or maybe even closing or repurposing the "retiring room."
But you lost me when you tried to portray the problem of inattentiveness as something that is specific to a subset of legislators. Because inattentiveness at the Minnesota State Capitol is endemic to all parties, races and genders.