Mitt Romney is pledging to bring the national unemployment rate to 6% by 2016.  The current national unemployment rate is 8.1%.  So, happy days are here again, the skies above are clear again, right?
Romney's 6% pledge may inspire confidence in Nevada, where unemployment is running at almost 12%.  But to Minnesotans' ears, it sounds like Romney is promising an economic downturn.  Minnesota's unemployment rate has already decreased in the Obama years to 5.6%, and by Romney's 2016 deadline for reaching 6% Minnesotans certainly expect to be below today's 5.6%.
After all, in the last three years Minnesota's unemployment rate has improved from 8.3% in April 2009 to 5.6% in April 2012.  If that rate of improvement continued in Minnesota, we'd be down around 3% before Romney's 2016 deadline for getting us to 6%.  Even if there is no improvement at all over the next three years, Minnesota under Obama will still be outperforming the Romney goal for four years from now.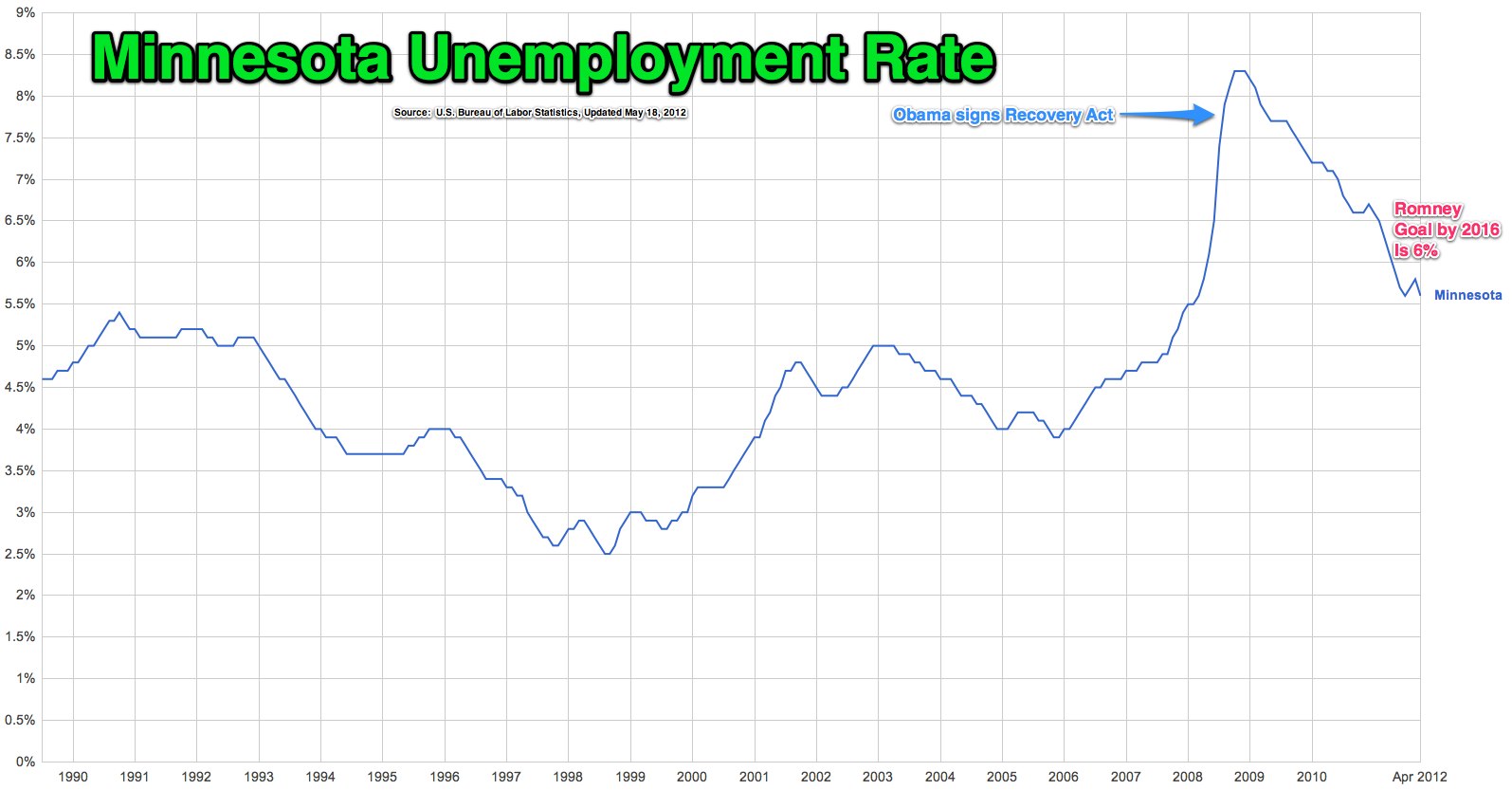 It is far from certain that Romney's proposed return to the Bushonomics that preceded the economic meltdown will now somehow improve the economy.   Romney wants Bush tax rates and Bush-style deregulation of banks, Wall Street and other corporations, so I'm not sure why we might expect that will produce a different result than it produced for Bush.  Governor Romney also wants to add austere spending cuts in programs that help the middle class, which economists say will retard consumer demand and economic growth.
But even if Romney's 6% unemployment goal is doable under Bushonomic policies, a very big "if," as a political rallying call 6% sounds very weak in many states.
Minnesota is not the only place where Romney's pursuit of 6% unemployment within four years sounds like underachievement.  Romney's Six Percent Solution also rings hollow in swing states such as Iowa (5.1% unemployment), New Hampshire (5.0% unemployment) and Virginia (5.6% unemployment).
The Obama Administration learned a hard lesson about naming unemployment rates.  Though Politifact says that Republican claims that Obama promised unemployment rates below 8% are "Mostly False," the whole political back-and-forth about that claim shows how dangerous it is to make any numerical proclamations about unemployment rates.
In states like Minnesota, Romney may now learn that lesson.