Massachusetts Governor Mitt Romney privately told his supporters that he has written off Americans who are not currently paying federal income taxes.  Those Americans aren't worth the bother — too whiney, too dependent.  But he assures his uber wealthy funders that he'll win in places with more "makers" than "takers."
If that were the case, Minnesota would look to be Mitt Territory.  Mitt-esota even.  After all, only 30% of Minnesotans are not paying income taxes, which puts the state in a national tie for fifth in that category.
Surely, Romney is leading in a state with 70% of what he would classify as "makers," right? But according to the most recent poll done in Minnesota, Romney is trailing Obama by a healthy margin, 44-51.
Ironically, most of the states with the highest percentage of Americans that Romney bitterly dismisses as takers are in Republican-dominated states, mostly in the deep south.  For instance, according to numbers from the Tax Policy Center, 45% of Mississippi citizens have no income tax liability, a much higher rate than the national average (36%).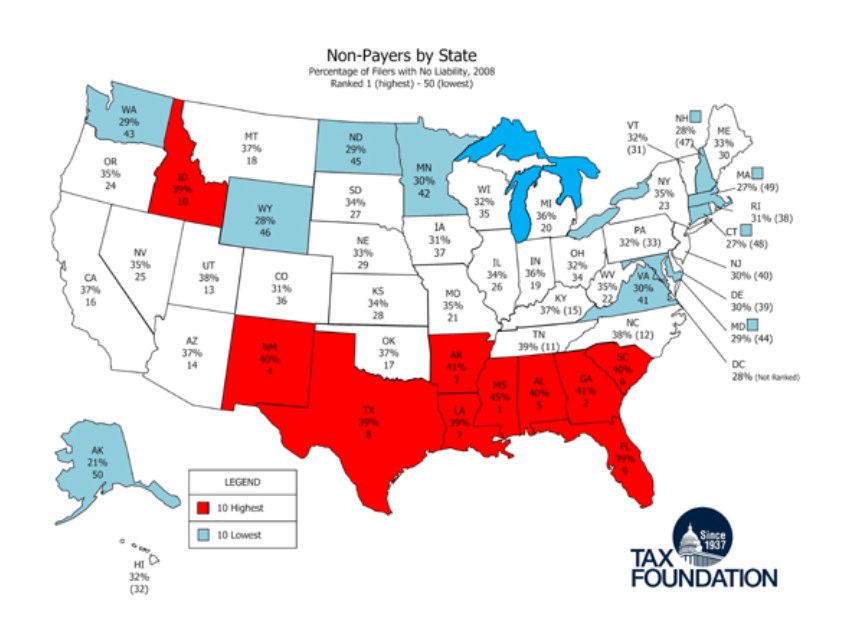 But curiously, "taker" state Mississippi is a Republican stronghold.  In 2008, Republicans won Mississippi by a whopping 13 points.  I'd share a 2012 poll with you, but Mississippi is considered so far in the bag for Romney I can't even find anyone who is polling there.
Romney's assertion that our fellow Americans who are not currently paying income taxes won't take personal responsibility for their lives is insulting.  These folks are retirees who worked their entire lifetimes, military personnel who are stepping up to serve their country, and poor people struggling to get their families out of a hole.  Moreover, most of these Americans are paying payroll taxes, property taxes, sales taxes and/or sin taxes.  In fact, some of them are paying a larger proportion of their income in taxes than the wealthiest Americans.
Moreover, 100% of Americans are guilty of the sin Governor Romney described in his private rant, the sin of being dependent on government.  In fact, every citizen of every modern society on the planet is dependent on government.  Government funded military, police and fire personnel protect us all. Government funded environmental, safety and consumer protections safeguard us all.  Government funded infrastructure, education and research fuels the economy that supports us all.  Because we all benefit from government, we are all dependent on it.  We are all in this grand American experiment together.  That's not scandalous, that's just how successful modern societies work.
But substance aside, let's return to Governor Romney's electoral strategy.  If Romney was correct that he will do best in states with a high percentage of voters with income tax liability, I have just one question for him:  What about Minnesota?
- Loveland