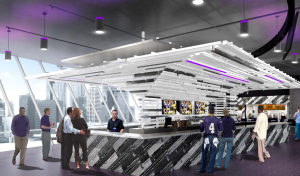 Are Minnesota Vikings season ticket holders effectively government-dependent welfare queens?  After all, a state legislator's analysis finds that every Vikings ticket benefits from a taxpayer subsidy of over $72.
If that analysis is correct, it would mean that over the next decade a season ticket-holding family of four will be benefiting from about $29,000 in subsidies from Minnesota taxpayers.  Over the three-decade life of the stadium, the 24 corporate benefactors sipping chablis in the Valhalla Suite will be benefiting from a government subsidy of about $521,000.
And we're worried about poverty-stricken families on Food Stamps? 
Those figures are based on an analysis done by Minnesota State Senator John Marty (DFL-Roseville).  Senator Marty calculates that the entire taxpayer burden for subsidizing our new People's/U.S. Bank Stadium is over $1.4 billion.  I'm not a public finance expert, but Senator Marty is a bright guy with access to public finance experts, and he seems to have done a lot of homework to develop this estimate.  He shows his homework in the spreadsheet provided below.
For purposes of the estimate, Senator Marty assumes that the Vikings will sell about 19.5 million tickets over the next 30 years.  While other non-Vikings events will also be held in the facility, Marty's analysis only looks at Vikings tickets.
From there, it's a simple calculation: $1.4 billion in subsidy÷19.5 million tickets=$72 subsidy per ticket.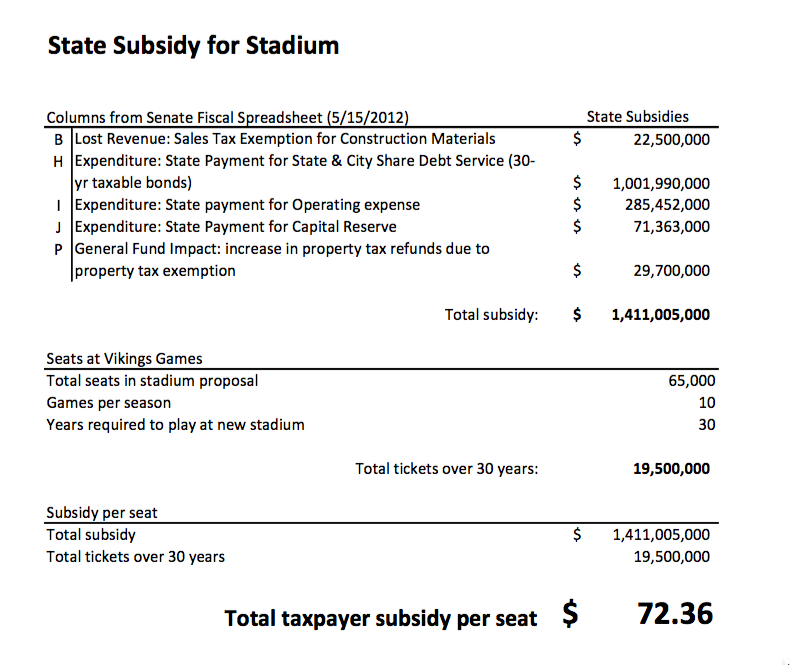 Critics may quibble with the specifics of the Marty analysis.  But specifics aside, the undeniable fact remains that Minnesota taxpayers are on the hook for an enormous subsidy that looks to be much larger than the $498 million figure typically quoted during legislative debates.