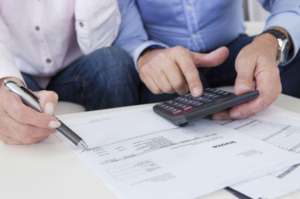 Republicans — ever eager to show they are in touch with the values of ordinary Minnesotans — are very fond of drawing analogies between household budgeting and government budgeting. Former Governor Tim Pawlenty was especially keen on talking about the virtues of "kitchen table budgeting."
In front of the camera's, Pawlenty would play the well-rehearsed role of Stern Daddy, saying things like, "when Minnesota families are sitting around the kitchen table making their budgets, they make the tough cuts to balance their budget, and the Legislature needs to what those Minnesota families do."
Actual Kitchen Table Budgeting
There are a lot of things that are silly about the Republicans' "kitchen table budgeting" analogy, foremost among them that many families don't balance their family budgets.   The dirty little secret is that we ordinary families are not quite as financially virtuous as the pandering pols make us out to be.  This from Bloomberg news:
Household borrowing surged in March at the fastest pace since November 2001 as financing for automobiles picked up and Americans' outstanding credit-card debt soared.

The $29.7 billion increase, or an annualized 10 percent, exceeded the highest estimate in a Bloomberg survey and followed a revised $14.1 billion gain the prior month, Federal Reserve figures showed Friday. Revolving credit, which includes credit-card spending, posted the biggest annualized advance since July 2000.
Political rhetoric aside, the data show that families are borrowing at record rates rather than balancing their budgets.  So ordinary families may not be the right role models for our leaders.
Across-the-Board Cuts?
This year, Republicans in the Minnesota Legislature are proposing to slash state government spending, by 10 percent across-the-board.  This is not the way ordinary families budget at the kitchen table: "Okay sweetie, here are all the bills. Just lop off 10% of what we pay next year for the mortgage, car, RV, boat, snowmobile, cabin, cable, cell phone, utilities, health insurance, groceries, medicines, vacation fund, the college fund, the retirement fund, rainy day fund…"
Instead, families set priorities and cut accordingly. They say things like, "Well, we gotta keep the household running smoothly, and have a household safety net in case of an emergency, so we can't cut these things.  Sending the kids to college is really important to us, so we can't skimp there. But I guess we can do without a vacation, a car for the teenager, and premium cable."  In other words, they reflect on their values, set spending priorities accordingly and cut spending surgically, not across-the-board.
Non-Crisis Family Budgeting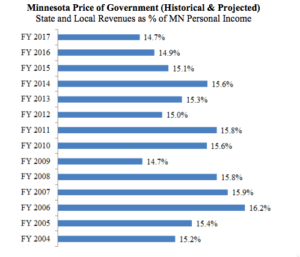 More to the point, families typically don't cut the family budget — across the board or otherwise — when the family finances are stable or improving. I promise you, this is not heard at very many kitchen tables: "Okay sweetie, we're financially comfortable and stable right now, but let's cut the household budget deeply anyway!"
The State of Minnesota is not in a crisis.  Our finances are currently sound, with a $1.65 billion budget surplus for the next two years. In contrast to the Pawlenty-era, when budget shortfalls were the norm, Governor Dayton required the wealthy to pay their fair share of taxes, and the state has been on solid fiscal footing ever since. Moreover, the "price-of-government" — Minnesota state and local government revenues as percentage of personal income — is currently relatively low.
So, why cut state spending at all? Did we suddenly come to the realization that Minnesotans need 10 percent less education?  Compared to the past, do we really think Minnesotans need 10 percent less roads, transit, human services, public health protection, environmental protection, economic development, and public safety? If not, then why in the world would we slash all of those vital services by 10 percent, at a time when we have a large budget surplus and the price of government is lower than historic averages.
After all, it's certainly not what Minnesotans would do at the kitchen table.