In case you haven't heard, there is a Vikings-Packers game happening this Sunday that has playoff implications.  A couple people seem to be interested in it.  It's reportedly an even bigger deal than the Meineke Car Care Bowl.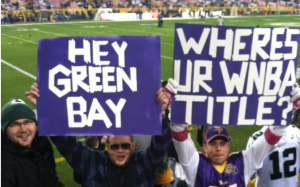 So, of course, now is the time when rival state politicians customarily make a sporting bet over who will win, to prove to the commoners that they are just regular Joes obsessing about football like everyone else.
Usually the bet is pretty predictable.  If Minnesota wins, Green Bay pays in cheese.  If Green Bay wins, Minnesota pays in pork, or whatever industry the politician wants to court.  Hilarity ensues.  We all can't get enough of it.  It's one of the most hackneyed and enduring rituals in American politics.
But how about we spice things up with some more culturally appropriate gifts?
If the Vikings lose, Governor Dayton promises to pay up with…
Lifetime supply of Cargill's breakthrough Lygomme™ ACH Optimum DAIRY-FREE cheese substitute
Lifetime supply of 3M Incontinence Care Lotion
Surplus Brett Favre Vikings jerseys
Hazelden group discount coupons
Bachmann-for-President game-worn tri-corner hats
If the Packers lose, Governor Walker promises to pay up with…
Lifetime supply of ratebeer.com's Worst Beer in the World – the pride of Milwaukee,  Olde English 800
Complimentary Scott Walker Labor Day address to Minnesota  AFL-CIO
Liquid Sex™ ginseng aphrodisiac pills (WI is the nation's leading producer of ginseng.  Who knew?)
Green and gold snowmobile suit tricked out with built-in pony keg and StepSaver™ urethral catheter
Photos of the Lombardi Trophies to decorate the Vikings new stadium
So, let the Border Battle Weekend begin.  And on behalf of Vikings fans everywhere, I'd just like say "may the worse team win."
- Loveland