In politics, presidential candidates who win the support of over 60% of Americans are said to have won overwhelming "landslide" victories.  Harding's 60.3% in 1920. FDR's 60.8% in 1936. Johnson's 61.1% in 1964. and Nixon's 60.7% in 1972.  Landslides!
It is so difficult to get 60% of Americans to agree on politics, that such "landslide victories" are considered highly unusual indications of a historically overwhelming level of public sentiment.
In Minnesota right now, Minnesotans of all walks of life, including Republicans, Independents, gun owners and Greater Minnesota citizens, are giving a landslide victory to gun background checks: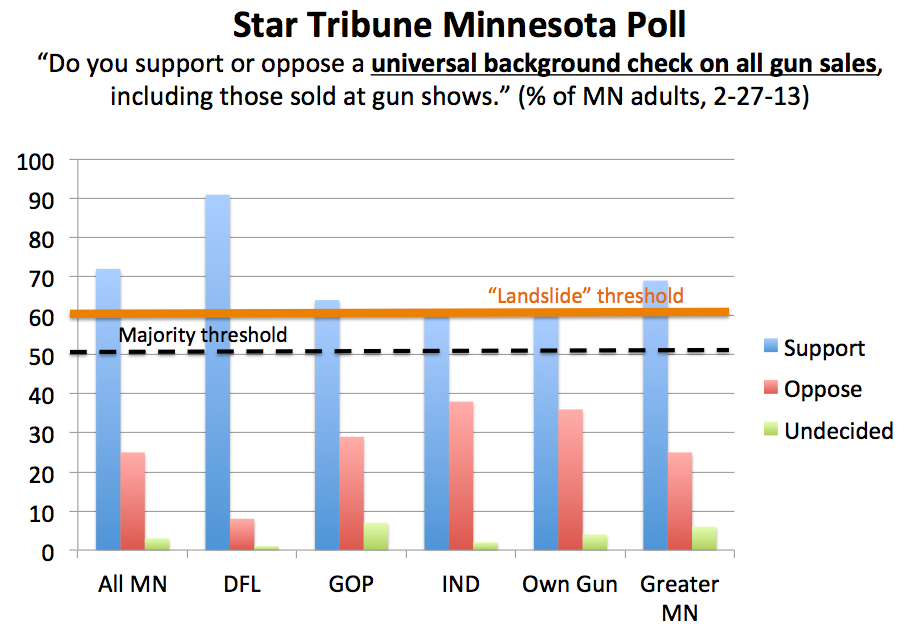 The Minnesota Republicans' point person on this issue, State Representative Tony Cornish (R-Vernon Center) shrugs off this Star Tribune Minnesota Poll with a cavalier "nobody really believes those polls."
For those who quibble about question wording, these polls all asked the question a bit differently.
For those who argue methodology, these polls all reached a different randomized sample of respondents, and relied on different methodologies.
For those who worry about sponsorship bias, these polls were sponsored by a wide variety of news outlets and academic institutions.
For those who stress that polls are blunt instruments, these polls did not find slim margins that conceivably could be slightly off.  They found support levels that are between 10 and 30 points higher than "landslide" threshold of support.
Make no mistake, on the issue of universal gun background checks, Minnesota Republicans are choosing to represent the will of NRA lobbyists over the will of the overwhelming majority of Minnesotans, including gun owners, Republicans, Independents and Greater Minnesota citizens.
Frankly, Minnesotans, Republicans just aren't just not that into you.
Note:  This post was also featured in Politics in Minnesota's Best of the Blogs.