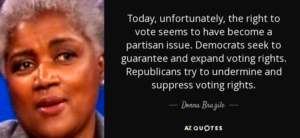 When it comes to the Minnesota DFL's attempt to bar Donald Trump's name from appearing on Minnesota ballots, the party is making a mistake by focusing on the could versus the should.
Yes, banning Trump from Minnesota ballots could be possible. It appears as if the ever-bungling Minnesota Republican Party perhaps didn't follow the letter of the law in nominating their presidential elector alternates. I'm no great election law mind, so I'll let the Star Tribune explain the DFL's legal argument:
The petition said the state GOP erred at its state convention on May 20-21 in Duluth, where delegates "at large" and from each of Minnesota's congressional districts nominated 10 presidential electors but failed to nominate 10 alternate electors.

The petition quoted the law (the italicized type is the party's) as saying, "Presidential electors and alternates for the major political parties of this state shall be nominated by delegate conventions called and held under the supervision of the respective state central committees of the parties of this state."

The petition continued: "This language is clear and unequivocal: Alternatives 'shall' be nominated — not unilaterally by party leaders — but by 'delegate conventions.'
It sounds as if they might have case.  But letter of the law aside, should DFLers ban Trump?  The spirit of the law is that citizens should get to a chance to vote for the candidate who prevailed in the nominating process, in this case Trump.   That's what Minnesotans of all parties feel in their gut.  The practical effect of the DFL's move is to effectively disenfranchise Trump voters in Minnesota, more than one-third of the citizenry. For a party that justifiably preaches keeping democracy open to all voters, effectively disenfranchising at least one-third of the voters just doesn't pass the smell test. It will offend many voters, including some who would otherwise be DFL-friendly, and it will seed even more cynicism in an already dangerously cynical citizenry.  That's not good for our democracy.
Beyond the disenfranchisement of it all, DFL Party leaders perhaps should be wary of unintended consequences. An April 2016 Star Tribune-sponsored survey found Clinton with 48% of registered voters, Trump with 35%, and 17% undecided. While that's a four month old poll, the chances are that Clinton still holds a lead in Minnesota. So, absent Trump being banned from the ballot by the DFL, Clinton probably would win Minnesota the old fashioned way, by earning the most votes.
So, there probably isn't a lot to gain Electoral College-wise by gagging Trump voters. However, what happens if Trump refugees and undecided voters coalesce around Libertarian Gary Johnson?  What likely would have been a blue state could become, I don't know, the Libertarian Party color.  That's probably a long shot, but the possibility exists after the DFL kicks the Trump hornet nest by taking away their ability to vote for their hero.
DFL electoral tacticians likely see it differently. They may think that if Trump isn't on the ballot, discouraged Trump voters will stay home, which will help the DFL win down-ballot races.  They're banking on Trump voters to stay home and sulk, and they may be right.  But what happens if Trump voters instead get outraged enough by the perceived injustice of the situation to turn out in record numbers to vote against the party that they feel stole their votes?
DFL leaders probably feel quite self-satisfied about this clever little "gotcha" game.  I'm one strong DFLer who just doesn't like it.  It feels like a betrayal of one of the party's most admirable values – defense of every voter's right to vote for the candidate of their choosing.  In my opinion this is not the Minnesota DFL's finest hour.