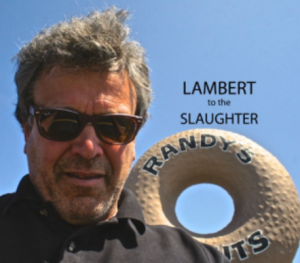 Well, that was actually interesting. And not because it was a night filled with hysteria and off-the-leash narcissism.
In case we've forgotten what a "substantive debate" sounds like, Bernie v. Hillary Thursday night in New Hampshire was a refreshing reminder. Two people arguing stuff that matters … most … right now … and not trying to out hyper-ventilate the other guy in imagining bloodthirsty, color-other-than-white terrorists gunning us down in our pickups on our way to Wednesday night prayer service.
Predictably, the morning after pundits are seizing on Hillary's "artful smear" line against Bernie, by which she was plainly trying to coax him into saying directly that she's taken bribes from Wall St. The line didn't play well. Sanders is simply too honorable and too defiant (some might say "courageous") in his attack on the country's most dominant minority (the super-super wealthy) for a shot like that to land with the feel of validity and with any sticking power, especially from Hillary Clinton. I seriously doubt she'll go there again.
And not because her kissing-cousins relationship with Goldman, Sachs and the rest of the .1% mob will go away … ever. But because Clinton, as she demonstrated again last night, both adapts well to the combat of politics and has plenty of fight in her. And I say that as two good things. The Clintons are unrivaled in their facility with the machinery of the political game, which is one reason Bubba not only swatted back the Gingrich Revolution in '94-'95, but survived impeachment and left office with an approval rating higher than dottering St. Ronnie.
I keep imagining what the first Clinton years might have been like if they knew as much about neutralizing Republican cynicism as they do now and had no interest in compliant interns.
Someone was saying this morning that the Sanders phenomena is much more about the message than Bernie himself, and that sounds right. You could swap Bernie out with anyone saying the same thing and be in pretty much the same level of contention. But it helps that Ol' Bern comes off simultaneously as fair-minded and mightily pissed-off.
Certainly until the general election, Hillary will be on serious defensive for her "establishment" (i.e. there's no way in hell you can call this "progressive") pas de deux with our 21st-century robber barons. (And this new crew gives guys like Andrew Carnegie and J.D. Rockefeller a bad name). That's her punishment. The hope has to be that she is aware of how much she has to prove she has not been bought off, as so many suspect.
I thought Chuck Todd and Rachel Maddow, who did a very good job with both the line and quality of questions and their willingness to play back and let Bernie and Hillary have at it, missed at least one juicy follow-up.
After Bernie reiterated his familiar charge that Wall St. today — still paying off billions in fines for fraudulent behavior — is really, let's call it what it is, a massive on-going systematic fraud, Todd and Maddow should have turned to Hillary and asked, "Madam Secretary do you agree that Wall St. as it functions today is a systematic fraud?"
Personally, I would have gone a step further and asked, "Madam Secretary, do you believe JP Morgan Chase CEO Jamie Dimon should be indicted for fraud?" But that's just me.
Todd, and certainly Maddow, might have also pursued a line of questioning along these lines: "Senator Sanders, your essential message, talking of a revolution, has demonstrated substantial appeal. But you seem to gloss over the steadfast opposition the current Republican majority has to literally everything a Democratic president proposes, and that includes minor policy shifts they themselves have previously championed. Aren't you showing a rather blithe disregard for the size and virulence of the opposition to the enormous and fundamental changes you're proposing, to the banking and health insurance industry in particular? Your reluctance to lay out how, with minorities in both houses, your plans could survive such a torrent of opposition leaves many people deeply concerned you have not fully accepted the probability of that scenario."
I'm still waiting for a convincing answer from Bernie on that one.
Still, by way of stark contrast, the debate's focus on financial corruption and that disease's impact on middle-class Americans was like sucking in a chestful of pure oxygen after the relentless freak-outs and idiocy of the Republican brawls. Everyone's sense of real-time security will improve immeasurably when we get a license-to-indict grip on our supremely entitled class.
Bernie's limitations vis a vis Hillary though were dramatically apparent when the topic turned to foreign policy, a range of issues pretty much on the periphery of his appeal. There was no comparison. There's simply no one in this race or in any race since Bush 41 who rivals Clinton on first-hand understanding of who's who in the world and how to handle the best and worst players. The question of course remains, facing the next international crisis, does she go with the option that is best or Halliburton et al, or follow Barack Obama's much less trigger happy strategies?
(The crowd selling Clinton as an inveterate war-monger, primarily for her Iraq invasion vote, is engaging in its own brand of hysteria.)
Not being a believer in perfect candidates, Thursday's debate was a satisfying confrontation of two sets of valuable virtues and vices, aspirational and idealistic vs. pragmatic and battlefield savvy.