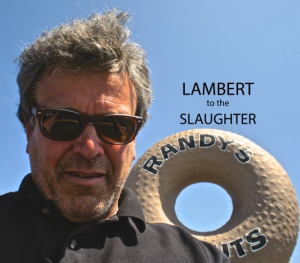 There's nothing like an American political campaign, especially one dominated by the rolling freak show of our "new conservative movement" to make you wonder if intelligent life exists anywhere in the universe, including here.
Thank God then for Stephen Hawking and the NASA teams responsible for the Pluto fly-by and the discovery of "Earth's twin", Kepler 452-b. They didn't quite drown out the buffoonery and cynicism of Donald Trump-Scott Walker last week. But if you were so inclined it was quite pleasurable to ignore the clamor of their toxic grifting and let the mind wander, imagining truly advanced civilizations and what they might think of us.
Among the most interesting people I've ever and had the chance to talk with is Arthur C. Clarke, the famous science-fiction writer, best known for co-authoring the screenplay for "2001: A Space Odyssey", which was drawn from his short story "The Sentinel". in 1984 Clarke flew halfway around the planet from his home in Sri Lanka to do publicity for "2010: The Year We Make Contact", an instantly-forgotten sequel to Stanley Kubrick's 1968 classic. By no means a typical Hollywood type, Clarke arrived for interviews at some Beverly Hills hotel looking like an Iowa mortician. Black suit, white shirt, black tie, horn-rimmed glasses and the demeanor of the guy who makes certain the deceased is returned to the earth with due gravity.
One of Clarke's many classic quotes is his response to being asked if we are alone in the universe? "Two possibilities exist," he said, "either we are alone in the Universe or we are not. Both are equally terrifying." He also said when asked what we might expect from contact with an extraterrestrial society, "Any sufficiently advanced technology is indistinguishable from magic."
I had only 30 minutes or so with Clarke, and there didn't seem to be much point in wasting it getting his reaction to the noisy, formulaic sequel to a truly audacious film that left no intelligent viewer with an option other than to contemplate our modest accomplishments — standing upright, conquering to survive and traveling beyond the pull of our own planet.
I doubt the news about our "twin", Kepler 452-b, 1400-light years away, would have surprised Clarke much. Terrified or not, he found it it difficult to believe, based on the astonishing immensity of the universe that we were all that unique in terms of complex organisms or all that advanced, given the relative youth, 4.5 billion years, of Earth and the Milky Way. Organisms in other parts of the 14 billion year old universe could have hundreds of millions of years head start on us.
I do think Clarke, who died in 2008, would have been delighted to hear of Hawking's collaboration with a Russian billionaire to re-start a long-term radar search for signals from another civilization, likely a "mega-civilization", a culture likely generations, millennia or more advanced than ours. He was generally appalled at the priorities of so-called social leaders. (The fact that a single football stadium in one obscure Midwestern city cost more than we invested in the Pluto mission would have been to Clarke a prime example of barely post-amoebic thinking.)
One part of my conversation with Clarke centered on why any truly advanced culture would have an interest in us? And if they did how they would go about looking us over? This of course was the gist of "The Sentinel", in which millions of years in our past a probing civilization, perhaps assessing Earth's position in the so-called "Goldilocks" zone in relation to our sun, drops down a kind of cosmic tele-prompter, sparking the decisive leap one species makes toward sentient thought … and then a fire alarm (on the moon) to alert the civilization that one of the species it has incubated is one the move.
I was pleased that Clarke agreed with me that it made no sense at all that a "mega-civilization" (he didn't use that term), would visit this planet in any kind of mortal form. No little grey men like in bad Hollywood or Japanese sci-fi. No bizarre, multi-tentacled deep space octopi like out of a comic book. Robotic probes alone, and most-likely the size of molecules rather than city-wide flying saucers could tell culturedeep space s capable of spanning  everything they needed to know about life on this rock. That is if at hundreds of thousands or millions of years of development beyond us they had any interest.
Clarke's argument, in various books, in the script for "2001" and in conversation in Los Angeles is that immortality is probably a primary initiative for any self-aware species, and that following the logic we saw in HAL the computer and see today in any number of the artificial intelligence advances made since his death, the process of separating consciousness out of and away from the frail, mortal carbon container we evolved in would be Job One.
In the "acid trip" sequence of "2001" there's a shot of seven shimmering crystalline objects, generally regarded as Kubrick and Clarke's depiction of "mega civilization" life forms. When I asked him if that was in fact the point of that shot, he smiled and said, "I don't want to say. It's more fun to imagine."
So what then? Having transferred consciousness from flesh and blood (or whatever chemical stew might work on other "goldilocks" planets) to a form immune to the ravages of wind, fire, war, radiation and time, what interest would such a form of being have in us? Why would we be of any particular interest at all? We're probably flattering ourselves that we're exceptional. Most likely we would be no more interesting than plankton in a tidal pool. Ours would be an existence to be acknowledged, at best. But nothing more.
More likely, Clarke thought (and wrote in several novels, although maybe most provocatively in "Childhood's End"), such a culture would practice a form of dispassionate benevolence, offering cues to lower life forms (us) for sustaining evolution, but taking no active role. (They're a bit more involved in "Childhood's End".)
One commentator writing about Hawking's endeavor reminded readers to do the math on Moore's Law, which says computing power, in terms of transistors on a CPU, doubles every two years. You can find people who say we've reached a limit and that that isn't going to happen. But since the number of transistors in a CPU has increased from 37.5 million in 2000 to 904 million in 2009, we're kind of in range. Point being, by 2050, at this rate, our own technology will seem like magic to us today.
And that's 35 years. For the sake of this discussion, add six zeroes. 35,000,000 years. Then try and imagine what "life" looks like. Most likely we wouldn't recognize if it was standing next to us.
Now back to the plankton we know as Trump, Walker and the others vying to lead our civilization.