As has been widely discussed, this year the Democratic presidential debates are on the down-low.  Democratic National Committee (DNC) leaders have decided to downplay their presidential debates, by limiting the sheer number of them, and airing some of them on Friday and Saturday evenings, when viewership levels are always very low.  Finding a Democratic presidential debate in the 2016 campaign is like finding Waldo, and it's very much by design.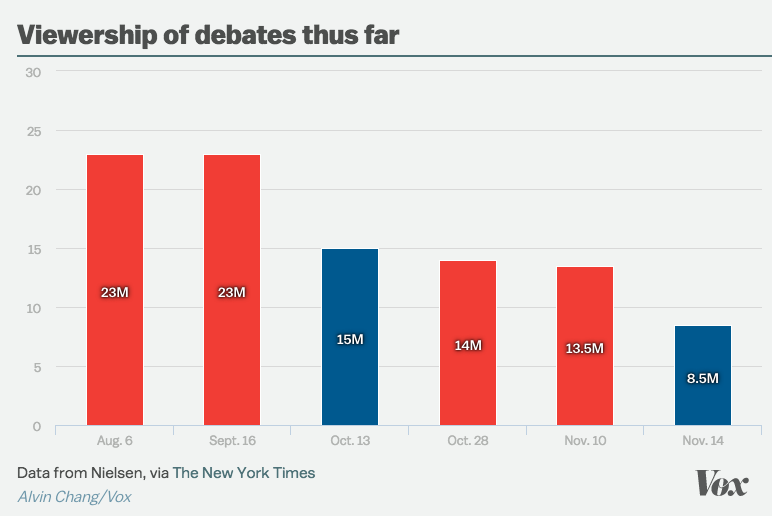 I understand party leaders' thinking.  They are all too aware that presidential debates highlight divisive intra-party squabbles in front of millions of viewers, and they sincerely believe that this kind of public bickering is bad for party unity.  They are concerned that wounds opened in debates won't heal quickly enough, and that the intra-party criticisms will be used by Republicans in the General Election to embarrass and damage the party's nominee.
Moreover, party leaders worry that a large number of divisive debates could make the contentious primary season last longer than it would if the establishment-friendly front-runner wins early in the process, as a result of challengers being starved of public attention by a dearth of debate exposure.  A short primary season makes for a more stable and better funded nominee, the thinking goes.
I understand all that, and agree that a series of prominent debates does pose risks to a political party.  Goodness knows, Democratic leaders watching the flame-throwing in the Republican debates probably feel vindicated by their decision to keep their debates in the shadows.
But in the final analysis, the strategy is short-sighted.  Here are five reasons why:
1.  IT FREES REPUBLICANS TO LEVEL CHARGES REPEATEDLY AND UNREBUTTED.  When Republican debates are many and prominent, while Democratic debates are few and obscure, that means that Republican key messages, claims and rebuttals dominate.   That makes most news cycles heavily slanted in a pro-Republican way, particularly because reporters increasingly shirk from holding Republicans accountable for  demonstrably false assertions.   "Democrats have destroyed the economy."  "Nation building in the middle east is easy."  "Tax cuts for the wealthy create jobs."  "Obamacare isn't helping anyone." "The stimulus and bailouts didn't work." "Minimum wage increases kill jobs."  In politics, a lie unrebutted is a lie believed.  When Republicans effectively gets the news media stage to themselves  for many months, the risk is that swing voters will swing Republican.  Moreover, all  of this message pounding can demoralize the Democrats' electoral base, which can mean that the Democratic faithful fail to vote in November.
2.  IT RUNS THE RISK OF KILLING OFF THE PARTY'S MOST COMPETITIVE CANDIDATE. Debates are auditions of sorts, and sometimes they reveal surprising truths about political competitiveness.  For instance, in part because the debates were numerous and heavily watched in 2008, Barack Obama was able to show voters that he, to the surprise of many party leaders, was the most capable candidate to lead the party to victory.  It would be very difficult for an Obama to defeat a front-runner in the current debate-poor environment.  Healthy parties need auditions that are not rigged.
3.  IT HURTS THE PARTY'S ABILITY TO DEVELOP A "DEEP BENCH."  Political parties need to develop rising stars, or lesser known leaders who are talented and becoming increasingly known and admired by voters.    Having a a full pipeline of such rising stars ensures that the party will have energizing and viable candidates in future elections.   For instance, even if someone like Maryland Governor Martin O'Malley isn't viable in the 2016 primaries, debate experience and exposure can help a leader like him become a rising star.  Developing a pipeline of such rising stars is an understated but hugely important benefit of multiple prime time presidential debates.
4.  LOOKING ANTI-DEMOCRATIC COMPROMISES THE DEMOCRATIC PARTY'S BRAND.  All of these stories about party leaders intentionally limiting  debates tarnishes the Democratic Party brand.  In an electoral environment that is very hostile towards the DC partisan establishment, it makes the Democratic establishment look heavy handed, insecure, cynical, top-down, manipulative, power hungry and/or ashamed of its policies, ideas and leaders.  The resulting brand damage might make it a bit more difficult to attract establishment-wary swing voters in the General Election.
5.  IT LEAVES THE FRONT-RUNNER RHETORICALLY OUT-OF-SHAPE.  Just as athletes need stiff competition to reach their full potential, presidential candidates need competition to improve.  Prominent debates under the klieg lights provide that competitive arena.  Candidates need to get good at presenting their ideas and proposals in crisp, compelling ways.  They need to learn how to defend against their personal and political vulnerabilities.  They need to prepare themselves to inspire confidence on literally hundreds of policy and non-policy topics.  So in an environment with just a few, obscure debates, a front-runner can get fat and happy, rhetorically speaking.   That can mean that the party finds itself with a weak and vulnerable campaigner during the intense summer and fall General Election season.
So, DNC, let's ease up on the Machiavellian reigns a bit.  Let them debate, even though it will get dirty and bloody.  Prominent presidential debates ultimately will do the party more good than harm.